Contact Us
Telephone: +61 (02) 6926 9660
Facsimile: +61 (02) 6926 9669
Email: gallery@wagga.nsw.gov.au
Street Address
Wagga Wagga Art Gallery
Civic Centre
Corner of Baylis & Morrow Streets
Wagga Wagga NSW 2650
Postal Address
Wagga Wagga Art Gallery
PO Box 20
Wagga Wagga NSW 2650
Mailing List
Please click here to sign up to our mailing list
Please note:
Wagga Wagga Art Gallery does not provide valuations for artworks or recommend valuers, either by phone or in person.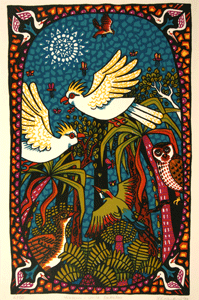 Image: Annie Franklin Yikikini - white cockatoo 1990, screenprint
Meet the Team
Expertise and experience combined with a focus on service.
Each member of our friendly, professional staff is an integral part of the Wagga Wagga Art Gallery. They're always ready to help with an enquiry, and their love of art is contagious!
Stephen Payne
Manager: Art Gallery
Linda Elliott
Curator: Education & Public Programs
Drew Halyday
Curator: Exhibitions & Collections
Michael Scarrone
Curator: Glass
Jacob Raupach
Gallery Technical Officer
Karin Bruton
Business Support
Mardi Holcombe
Gallery Assistant Front of House/Shop
Helen Robb
Gallery Assistant Front of House/Shop