Felicity Hibble, Rod Kirk, Josie Kirk, Jeremy Kirk: Rhythm and Rust
E3 art space: Thursday 20 - Sunday 30 June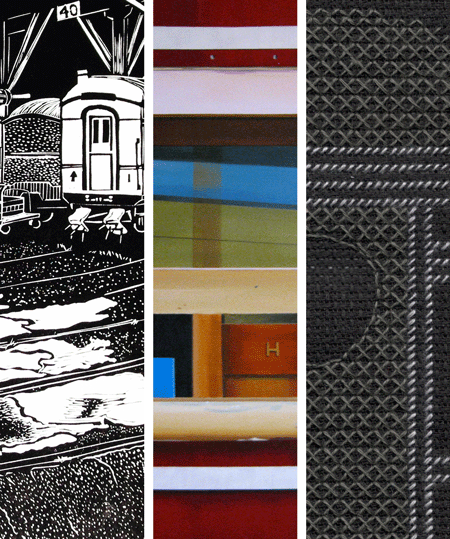 Detail of works by Felicity Hibble, Rod and Josie Kirk
Sound File Jeremy Kirk
Neither a wise man nor a brave man lies down on the tracks of history to wait for the train of the future to run over him. Dwight Eisenhower
Explore the grand old age of travel by train through the eyes and ears of two generations of artists from one family...
Rhythm & Rust is the creation of local printmaker Felicity Hibble, Adelaide painter and ceramicist Rod Kirk, Adelaide textile artist Josie Kirk and Melbourne sound artist Jeremy Kirk. Together, they have created works inspired by the Junee Roundhouse Museum, an organisation run by volunteers who preserve and restore old rolling stock.
From documenting steam and diesel rolling stock in motion to works that explore the multisensory experience of train travel, each work in this exhibition tells a unique story about this region and our social history.
LAUNCH:
Thursday 20 June, 6:00-8:00pm