Weekly Update 2008
From the Gallery
By Linda Elliott
20 December 2008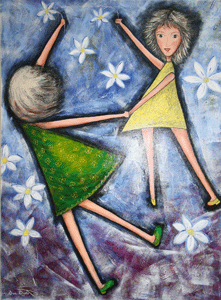 Image: Sue Dyde Daisy a Day
Did you know the Wagga Wagga Art Gallery has a shop? Profits from this valuable service helps to grow the art gallery collections. In the Wagga Wagga Art Gallery Shop, you will unearth an eclectic mix of high quality Australian and imported designer goods that will bring untold pleasure to your home both indoors or out. The Gallery shop specialises in art glass from across Australia. As well as this there is a wide range of cards and specialist books and Gallery publications including exhibition catalogues for touring and temporary exhibitions and catalogues documenting the National Art Glass Collection and the Margaret Carnegie Print Collection of the Wagga Wagga Art Gallery. What a wonderful gift for someone interested in the arts!
An exhibition titled My Wagga Wagga has just opened in the art gallery's main exhibition space. Wagga Wagga Art Gallery and the Museum of the Riverina both provided digital workshops for young people recently. These workshops had the themes of Places of Wagga Wagga and Faces of Wagga Wagga and where in direct response to the current exhibitions on show in both locations. To showcase the students efforts and the connection to both the gallery's and museum's collections My Wagga Wagga will be on display until mid January. An all age activity area is in place over the holidays for families to come and enjoy.
Looking for a tranquil place over the festive season? The beautiful exhibition Lines Through Light examines Stephen Procter's work, one of Australia's premier glass artists, from the 1970s to 2001. The exhibition encompasses Procter's art glass as well as his substantial graphic and painted body of work. This exhibition explores the artist's journey through his immediate environment and the relationship of the individual to that landscape. This exhibition stretches across both the glass gallery floors and combines site specific installation work. Located in the picturesque glass gallery and diagonal across from the entrance you will find the E3 art space.
A bouquet of colour is bursting out of the E3 art space! Members of The Wagga Wagga Art Society Christmas exhibition at Wagga Wagga Art Gallery finishes this Sunday 21 December. The exhibition Colour My World allows visitors a chance to buy an original piece of art just in time for Christmas.
Exhibitions this weekend:
Main Gallery
Sixth Leica/CCP Documentary Photography Award
until 19 December
coming up: My Wagga Wagga
text/object
until 11 January 2009
Links Gallery
Solo
21 November - 11 January 2009
Margaret Carnegie Gallery
Plenty: Indigenous prints from the Margaret Carnegie Print Collection
until 11 January 2009
National Art Glass Gallery
Lines Through Light
5 December - 29 March 2009
E3 art space
Colour My World - Wagga Wagga Art Society
until 21 December
Festive Hours:


Thursday 25 Christmas Day - closed
Friday 26 Boxing Day - closed
Saturday 27 December - open
Sunday 28 December - open
Monday 29 December - closed
Tuesday 30 December - open
Wednesday 31 December - open
Thursday 1 January - closed
Friday 2 January - closed
Saturday 3 January - open
Sunday 4 January - open
Monday 5 January - closed