Get Involved
The Friends of the Wagga Wagga Art Gallery are an independent group passionate about the arts and culture, who support the Gallery and the city of Wagga Wagga in many ways. As a Friend, you'll receive:
Regular updates on gallery exhibitions, events and programs.
VIP invitations to exhibition launches and Friends-only special functions.
A 10% discount in the Gallery Shop across a wide range of items.
Opportunities to meet socially with peers and colleagues to discuss and enjoy the arts!
By joining the Friends of the Wagga Wagga Art Gallery you'll help to maintain a rich and vibrant arts community in Wagga Wagga, as well as assisting the Art Gallery and local artists. Membership Subscriptions also make a perfect gift for friends and family.
Donations
All donations to the Wagga Wagga Art Gallery help to grow and care for our collections. Your generosity will ensure that the National Art Glass Collection, the Margaret Carnegie Print Collection and our other collections are maintained as vibrant and inspiring for audiences today and future generations.
To make a donation, contact the Gallery on 02 6926 9660 or gallery@wagga.nsw.gov.au. Significant gifts can be publicly credited for the acquisition of a specific artwork, and as Wagga Wagga Art Gallery is registered as a Deductible Gift Recipient (DGR) organisation, all donations over $2.00 are tax deductible.
Cultural Gifts Program
Wagga Wagga Art Gallery is also listed with the Australian Tax Office as a collecting institution, and deductible donations of artworks may be made through the Cultural Gifts Program. For further information, contact the Gallery directly or learn more at http://arts.gov.au/cgp.
Your support is essential to continue building our wonderful collections – thank you!
National Emerging Art Glass Prize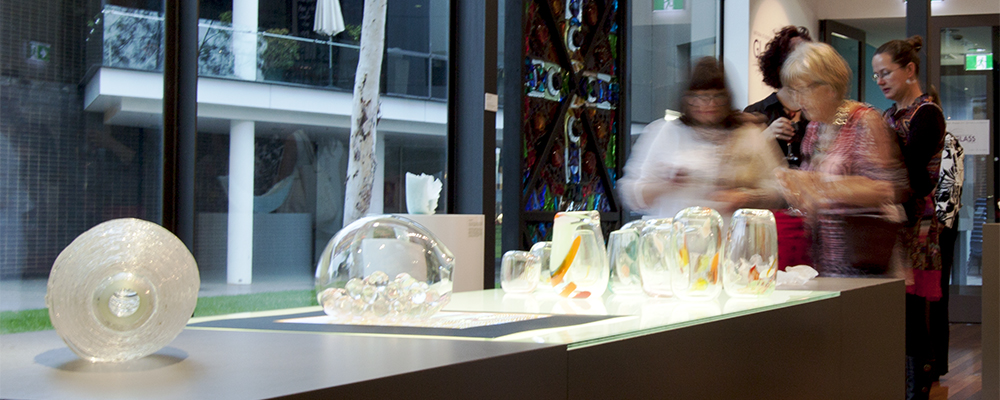 The National Emerging Art Glass Prize is a biennial competition dedicated to rewarding and promoting innovation and excellence in contemporary glass within the student sector. The Prize is open to current students and recent graduates of glass at universities across Australia.
The winner receives an all-expenses-paid, two masterclasses and a conference at North Lands Creative Glass facility in Scotland and his or her work will be acquired into the National Art Glass Collection. North Lands is internationally recognized as the best institute for the study of glass art in Europe.
As an acquisitive competition, the NEAGP also helps grow the National Art Glass Collection, with several works created by some of the most exciting new glass artists in the country being acquired from every exhibition.
The Prize was established in 2010 as the National Student Art Glass Prize, and returned in 2012 and 2014 under this name before relaunching in 2016 as the National Emerging Art Glass Prize with a broader audience - no longer restricted purely to current students but more broadly representative of the innovation of the sector.
Since its inception, the Prize has gone on to become one of the highlights on the Australian art glass calendar; and continuing the prestige of the National Art Glass Collection and the Gallery.
Follow the links below for previous Prize exhibitions, with information on the artists and the winner's trips to North Lands Creative Glass.
National Student Art Glass Prize 2010
National Student Art Glass Prize 2012
National Student Art Glass Prize 2014
National Emerging Art Glass Prize 2016
Image: Gregory Carosi, From there to here, Links Gallery, Installation view, 2016.
Wagga Wagga Art Gallery operates two community gallery spaces, the Links Gallery and the E3 art space, reserved for artists, curators and cultural organisations from the Riverina, or applicants demonstrating strong connections to the region. Both spaces are open to solo or group shows, by artists or community and educational institutions. For both spaces, a nominal hire fee is charged by the Gallery. A refundable deposit is also charged.
---
Applications for the 2019-2020 Community Gallery exhibition schedule are now closed. The assessment panel consists of our Art Gallery Director, Gallery Curator, Exhibitions and Collections and two independent arts practitioners. We had a highly competitive field of applications last year, both in strength and volume.
Applications for the 2020-2021 program will open in late 2019, please email Elaine Sullivan, Gallery Officer, Exhibitions and Programs: sullivan.elaine@wagga.nsw.gov.au to be added to our mailing list to hear once applications have opened.
Volunteering at the Wagga Wagga Art Gallery offers a unique and rewarding opportunity for those interested in the arts. You'll get to experience first-hand our amazing programs, exhibitions, events and collections, as well as meet artists and cultural professionals.
It's a great way to become actively involved in your community, meet new people and build your confidence, learn new skills, and increase your knowledge.
If you're interested in becoming a volunteer with the Gallery, please download the forms below, read through them and then contact us to discuss the next step on (02) 6926 9660 or gallery@wagga.nsw.gov.au.