Bomen Enabling Roads
The Bomen Enabling Roads project will significantly overhaul heavy vehicle access to Bomen Business Park.
The multi-million dollar project will vastly improve road safety in the area, create a potential round trip saving of 36 minutes for Higher Mass Limits (HML) vehicles and better link the industrial precinct with the Olympic and Sturt highway.
The new roads will unlock hundreds of hectares of industrial land for investment into the City of Wagga Wagga.
The works include closing the Dampier Street level crossing and building a rail bridge/road underpass, as well as constructing link roads and a new access road into the Livestock Marketing Centre.
Reconstruction of the Eunony Bridge and the Eunony Bridge Deviation road project (complete 2015) both complement the Bomen Enabling Roads project, by significantly improved access into the Bomen Business Park.
The Bomen Enabling Roads project is now complete. Find out more via the project diary.
"The total Bomen Enabling Roads project is worth in the vicinity of $40M and we expect it will become a transformative piece of infrastructure that has a significant and long-lasting benefit for current and future businesses and our community." – Mayor of the City of Wagga Wagga Rod Kendall, 2016.
Benefits of Bomen Enabling Roads:
Cater for future traffic demand
Improve and address existing traffic constraints
Address significant safety concerns
Stimulate economic growth by opening up industrial zoned land in Bomen Business Park
Support the potential development of the RiFL Hub
View the Bomen Enabling Roads concept design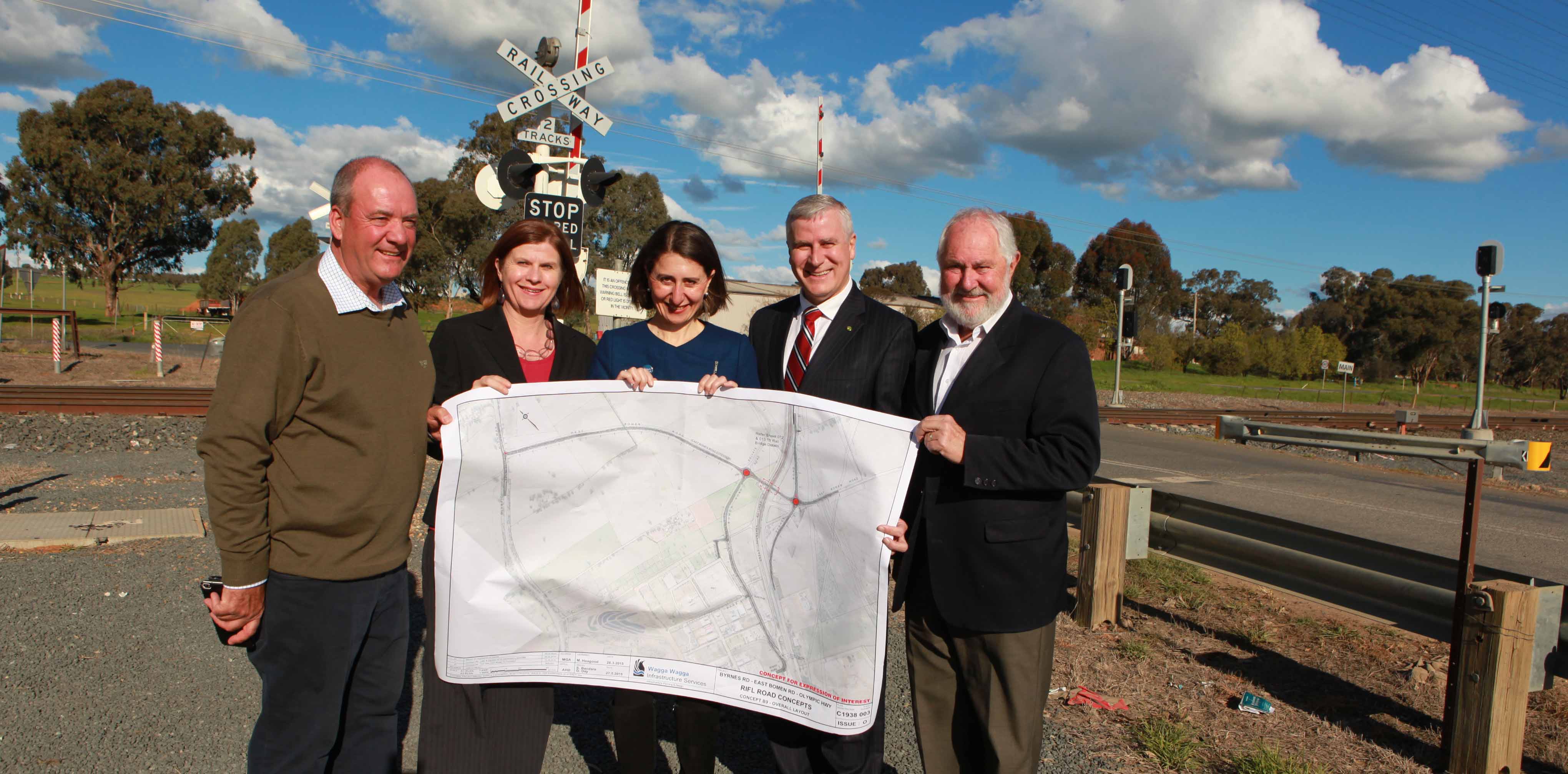 WORKING TOGETHER: Marking the contract exchange for the Bomen Enabling Roads project in 2016 are (from
left) Member for Wagga Wagga Daryl Maguire, Council's Acting General Manager Janice Summerhayes,
NSW Treasurer and Minister for Industrial Relations Gladys Berejiklian and Member for Riverina and
Minister for Small Business Michael McCormack.