Levee Upgrade
STAGE 2 Project diary - The latest project news, construction videos and information for 2019
STAGE 1 - Keep up to date on the latest project news, construction videos and information
About the project
Construction to raise the Murrumbidgee River levee system in Wagga Wagga started in October 2017, giving residents for the first time a 1 in 100 year level of protection against flooding.
Strengthening the levee system will help safeguard the central business district, many of the city's critical assets and thousands of homes.
Construction
The Main City Levee upgrade will be delivered through a staged construction.
Stage 2 (2019-2020)
From Gobbagombalin Bridge to Cadell Place wall (parallel to Fitzmaurice Street) to Johnson Street, then from, Riverina Playhouse to Copland St (earthworks commence 7 January 2019)
VIDEO UPDATE - August 2019
Stage 1 (consists of two levee sections) 2017 - COMPLETED JANUARY 2019
Section 1 – Flowerdale, including spillway, to Gobbagombalin Bridge
Section 2 – Copland Street, including spillway, to Kooringal Road Monumental Cemetery
During construction of stage 1 and stage 2 some sections of the Wiradjuri Walking Track, which runs alongside the Murrumbidgee River, will be subject to temporary closures. These closures are to allow for the safe construction of the levee upgrade.
Closures of the walking track associated with the Main City Levee upgrade are:
Wiradjuri Bridge to Johnston St - closed until 21 October 2019 due to the Hampden Bridge Legacy Project
Railway Bridge to Sturt Highway (Marshalls Ck Bridge) - closed until October 2019
All dates are subject to weather and works and any additional interruptions will be advertised accordingly.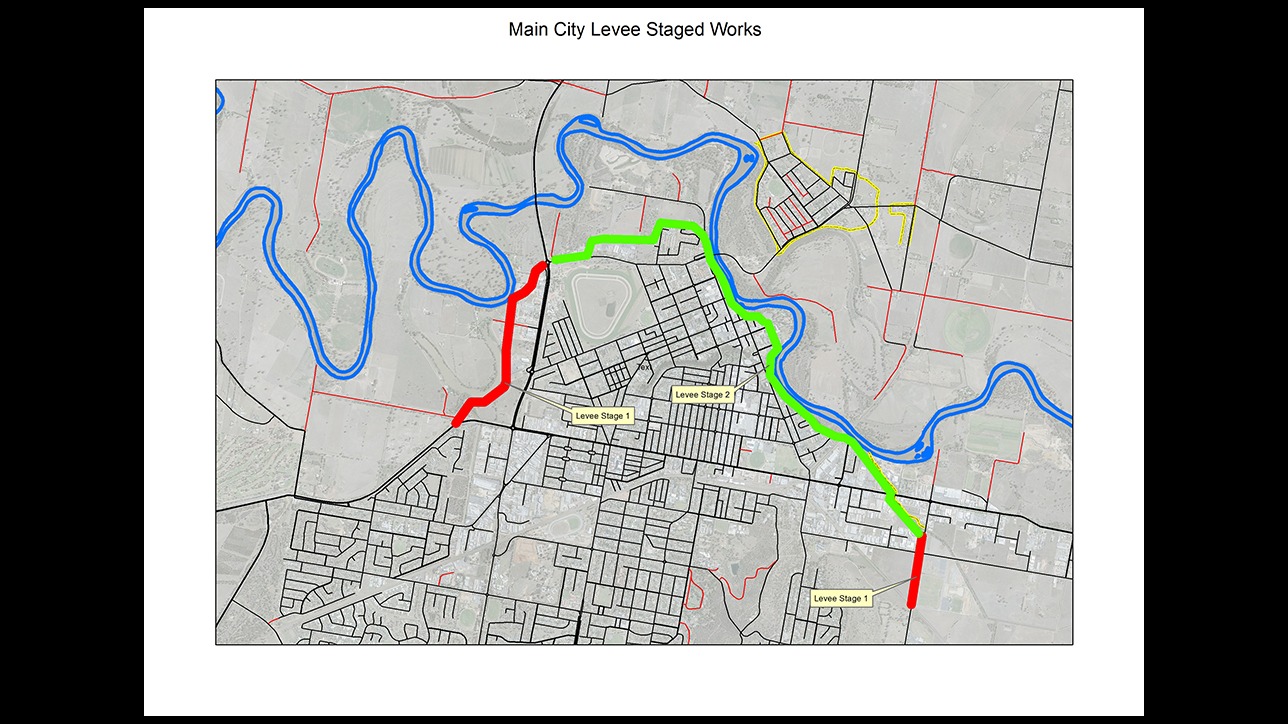 STAGED BUILD: Stage 1 and stage 2 of the Main City Levee upgrade
Funding
The following funding contributions have been made to cover the $23M cost of the Wagga Wagga levee upgrades:
City of Wagga Wagga - raising one-third share of $7.75M through a special rate variation, effective from 2016 and maintained for five years
State Government - stage 1 grant funding of $2M and stage 2 grant funding of $2.1M
Federal Government - $10M funding under the Community Development Grants Programme
Note: Costing of $23M is pending tender processes and/or variations.
Want more?
Watch a short video on how the levee project developed from designs and consultation to construction.
Upgrading Wagga Wagga's levee