Electronic Lodgement of Planning Applications
Council recommends that planning application forms, plans and other associated documentation are lodged with Council in an electronic format. By lodging electronically, Council will be able to process your application more efficiently, thereby allowing for a more timely assessment and decision.
The following types of planning applications can be lodged electronically:
DA - Development Applications
CDC - Complying Development Certificates applications
CC - Construction Certificate applications
AA - Sections 68 Activity Approval applications
Applications to modify and review determinations and certificates
Applicants will have the option to:
Upload their applications directly to Council
Save their application to USB drive for lodgement at Council's customer service (or alternatively send by post)
The following provides a snapshot of the lodgement options. Please note that paper copy lodgement will still be available if required.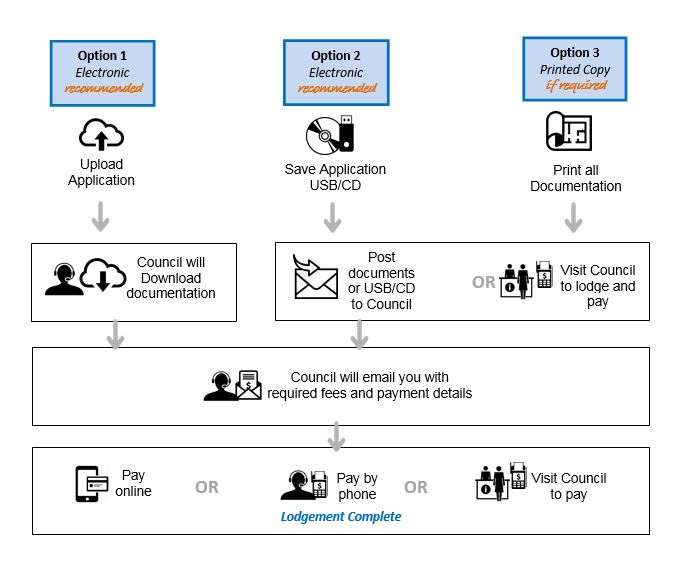 How-to guides for uploading documents electronically
OPTION 1 - Electronic Upload (PDF, 251.8 KB)
OPTION 2 - USB/CD (PDF, 228.6 KB)
Alternatively, the application lodgement checklists will provide instructions. Click here for checklists.
FAQ's
Can I post my USB/CD to Council?
Yes, as identified above, Council will accept applications on USB/CD that are posted.
When posting the USB drive or CD, you will be required to complete and enclose Council's "Postal Cover Sheet" to ensure that the USB/CD can be correctly identified as a planning application upon receipt. Click here to access the Postal Cover Sheet
Please also note that any USB drive or CD posted to Council will be destroyed once the documentation has been uploaded onto Council's electronic filing system.
Can I still lodge my application in printed format?
Yes, applicants will be offered the option to continue lodging applications in printed format. However, this will be discouraged as all printed documentation will be destroyed and disposed of after the documentation is digitised. By lodging in electronic format, Council will be able to process the application more efficiently reducing both time and cost.
Where do I access the new checklists and forms?
Council has developed a range of new application forms and checklists that will guide the applicant in lodging their application electronically. These new forms will include:
A new combined application form covering all applications types (DAs, CDC's, CC's and AAs)
New Checklists for all applications types providing clear instructions and information on lodging applications electronically
New application form for modifications and reviews.
The forms will include detailed information on how files are to be saved/uploaded including a specific naming convention for each type of document.
Click here to view forms and checklists.
What will happen if I am in the process of lodging an application using the old forms?
Council will continue to accept the old forms and checklists through to the end of March 2019. However the old forms and checklists are no longer available on this website.
Any application lodged using the old forms will need to be lodged in accordance with those requirements (i.e. in printed format).
How can I pay for my application?
Upon receipt of applications that are uploaded or sent by mail, Council will email you with details of the required fees and payment options.
An online payment option will be available with no credit card surcharge. Please note that credit card payments over the phone or in person will incur a surcharge.
Why is Council doing this?
The benefits afforded by this new service will include:
Providing customers with a simplified process for the lodgement of their applications.
Reducing the time and cost to applicants in printing documentation.
Improving the efficiencies in the handing and processing of applications internally, leading to improved assessment times.
Reducing the significant cost to Council and the community associated with scanning, handling and storing hard copy files.
Further information
for further information regarding the new process, please contact Council on 1300 292 442, email council@wagga.nsw.gov.au or visit our Customer Service team in the Civic Centre, corner Baylis and Morrow Streets, Wagga Wagga.