Australia Day
AUSTRALIA DAY EVENTS 2020
Australia Day at the Oasis | Thursday 23 Jan
Bring your family, inflatables and a picnic to the Oasis Regional Aquatic Centre. Free entry from 6pm - 7.30pm. No entry or pass outs after 7.30pm. Glass, alcohol or commercial food are not permitted.
Australia Day Awards | Friday 24 Jan
Head down to the Wagga Wagga Civic Theatre for Wagga Wagga's Australia Day Awards Ceremony featuring performances by the Army Band Kapooka and the national anthem competition finalists. Meet Brad Farmer, Australia's very own Beach Ambassador. Free entry to the event from 7pm - 9.30pm.
Australia Day Celebrations + Triple M Free Community Breakfast | Sunday 26 Jan
The Riverside: Wagga Beach is the place to be on Australia Day morning. Fun activities and entertainment will be available for the whole family to enjoy.
Triple M Radio will be live broadcasting from 6am - 9.30am and serving breakfast at 7am.
Australia Day Citizenship Ceremony | Sunday 26 Jan
Join the Mayor in welcoming our newest citizens at the Riverside: Wagga Beach from 9am.
OUR AUSTRALIA DAY AMBASSADOR
BRAD FARMER AM
Brad says he's lucky to be born on the world's biggest sandbox of our 11,761 amazing beaches and has had the good fortune to leave his footprints on more than most. He reckons Australia is really just one very big beach.
Mr Farmer has been awarded the Member of Order of Australia for his lifetime of distinguished voluntary service to communities, conservation and coasts and has the enviable title of Australia's Beach Ambassador, bestowed by Tourism Australia.
Like all Australians, he has a passion for our nation's great variety of beaches on our immense 57,000km coastline – a ribbon of gold where some 90% of Australians live, work and play.
Brad grew up with sand between his toes in what was a naturally blessed strip of coast, now known as the Gold Coast, where his family first settled in 1842. His forefathers, as his name suggests were farmers, who grew wool in outback NSW and QLD.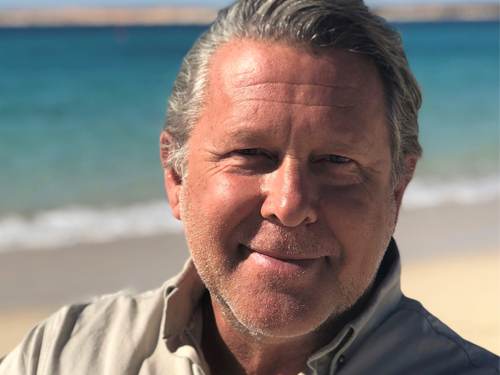 Inspired by the beauty of coastlines, he's travelled across some 30 countries and has pioneered new realms of coastal advocacy. Brad has founded many not-for-profit groups, including the award-winning Surfrider Foundation, Ocean Care Day and the National and World Surfing Reserves movements.
Now, after a storied and salty life, he is one of the world's leading beach experts and best-selling authors, celebrating the beach lifestyle with his long and authentic connection with coastal communities.
In his 40 years of voluntary advocacy, from the smallest of threatened beach communities to the Australian Senate as a coastal adviser, Brad is stoked to be conserving beaches – where Australians find their ultimate happiness – and the country derives $100b from beach tourism each year.
In 1990, as a young Greenpeace anti-nuclear campaigner in the frozen Soviet Artic, he was imprisoned and interrogated by the then Soviet KGB and released by Presidential Pardon, to resume lighter duties here on our beaches.
He believes that while Australia was, and always will be, the land of opportunity for all - now - more than ever – we are blessed here in the best country in the world, to truly celebrate diversity and our natural heritage.
He loves the great Australian outdoors and the warmth of Australian communities from the oceans to the outback.
2020 Awards - Nominations are now CLOSED
Show your recognition for some of our hardworking citizens and celebrate with the 2020 award winners. Get to know each nominee for this year's awards by reading their individual bios
2019 AUSTRALIA DAY AWARD WINNERS
Citizen of the Year Award
2019 Citizen of the Year - Alan Lean
Alan is a long standing member and past President of the Rotary Club of Wagga Wagga, as a Rotary member Alan has served in countless local service projects over the past 30 years and has served as a volunteer and board member of community radio station 2AAA FM. Alan and his wife Kaye were the driving force behind establishing the regional Camp Quality Centre and founding of Country Hope. More recently Alan was founder of the Wagga Wagga Rotary Shine Awards, which recognises employees with disabilities and the employers who offer them meaningful employment
Previous Citizen of the Year recipients
| Year | Recipient Name |
| --- | --- |
| 2014 | Aunty Isobel Reid |
| 2015 | Kerry Geale |
| 2016 | Joe Williams |
| 2017 | Dianne Jacobson |
| 2018 | Phil Hoey |
| 2019 | Alan Lean |
Young Citizen of the Year
2019 Young Citizen of the Year - Mathew Lennon
Matthew is an outstanding leader in rural health and high school education. Matthew has founded Doctors for Rural Education and Medicine (DREAM), to mentor and inspire medical students to train and remain doctors in the bush. Since 2013 he had run Springboard Education (a charity offering free tutoring to rural children), inspiring hundreds of local students to excel in education and follow careers in healthcare. Matthew is renowned for running rural appreciation weekends for visiting students and doctors interested in pursuing a rural health career. Matthew is also very active in community organisations, volunteering at the Palliative Care Unit.
Previous Young Citizen of the Year recipients
| Year | Recipient Name |
| --- | --- |
| 2014 | Angela Burns |
| 2015 | Sally Tanner |
| 2016 | Hannah Kempton |
| 2017 | Isobel Cowell |
| 2018 | Francis Elliot-Rudder |
| 2019 | Matthew Lennon |
The Baylis Street Walk of Honour was instigated in 1998 to recognise substantial contributors to the City of Wagga Wagga
The award forms part of Council's Australia Day Awards - confirming Council's belief in the importance of recognising those members of our community who have given so much of themselves to our city.
Nominations open in conjunction with the Citizen of the Year, Young Citizen of the Year and Ted Ryder Sports Memorial awards in the second half of the year and the winners are announced on Australia Day.
View the Walk of Honour Plaque locations
2019 Walk of Honour - Cecil 'Bob' Scott
In 1957 Bob Scott was instrumental in the formation of the Wagga Wagga District Highland Pipe Band. Bob was the pipe major, he was responsible for the music played, tutoring pipers, music selection, tuning pipes and drums and was responsible for the appearance and sound of the band in public performances.
For the past 60 years Bob has been the heart and soul of the Band. He has been involved in many activities throughout Wagga Wagga and surrounds including 60 years leading the ANZAC band playing for the dawn service in Wagga Wagga and Uranquinty, along with performing at the Tarcutta Driver Memorial Services, over 20 years experience playing at the Eisteddfod and National Dancing events in Wagga Wagga and surrounds. In addition Bob has also performed at New Year celebrations and regularly plays at sergeants mess celebrations events.
Previous Walk of Honour recipients
| Year | Recipient Name |
| --- | --- |
| 1998 | Ada Beatrice Webb |
| 1998 | Cedric Thomas |
| 1998 | William and Amy Hurd |
| 1998 | Robert John Hurst |
| 1998 | Henry Angel |
| 1998 | Edna Busse |
| 1998 | John Hurst Edmonson |
| 1998 | Yvonne Elsie-May Gilchrist |
| 1998 | Albert Louis Burgman |
| 1998 | Jane Lindsay Scott |
| 1999 | Donald Moreton Kendell |
| 1999 | Trixie and Margaret Read |
| 1999 | Colin Campbell Knott |
| 1999 | John Ansell |
| 1999 | Henry Ernest and Morris Henry Gissing |
| 1999 | Edgar Hugh Graham |
| 1999 | Carol Moffit |
| 1999 | Leyton Selwyn "Don" Joyes |
| 1999 | Rosina Mary Grosse |
| 2002 | William George Fitzroy Huthwaite |
| 2003 | Dr Bruce William Harding |
| 2004 | Robert Lancaster Brunskill |
| 2005 | Cyril Jones |
| 2006 | George Hilton Brown |
| 2008 | Brian and Joy Kahlefeldt |
| 2009 | Michael Kennedy OAM |
| 2010 | Brian Gerald Kennedy |
| 2011 | Bill Kerr |
| 2012 | Marguerite (Madge) Wallace |
| 2013 | June Dunn |
| 2014 | Marie & Dr William Thompson |
| 2015 | Henry "Arthur" Nixon |
| 2016 | John Brasier |
| 2017 | Jim Elphick |
| 2018 | - |
| 2019 | Cecil 'Bob' Scott |
Ted Ryder Sports Memorial
2018 Ted Ryder Sports Memorial - Peter Lloyd
Peter has been a member of the Wagga Wagga Croquet Club since 2000 and has held various roles in that time, including president, vice president, secretary and captain. He has expanded the sport in Wagga and around the region through schools, carnivals, coaching and more. He was made a life member of the club in 2009.
Previous Ted Ryder Sports Memorial recipients
| Year | Recipient Name |
| --- | --- |
| 2015 | Steven Kimball |
| 2017 | Anthony Paul |
| 2018 | Peter Lloyd |
| 2019 | - |