Augmented Wetland contains works created by a group of local students from Wagga Wagga High School and Mount Austin High School. The works consist of a series of short animations and digital imagery that the students made in response to educational visits to the Marrambidya Wetland in 2016.
Through the use of AR, users can engage with the interactive digital content within the physical environment of the Marrambidya Wetland in real time.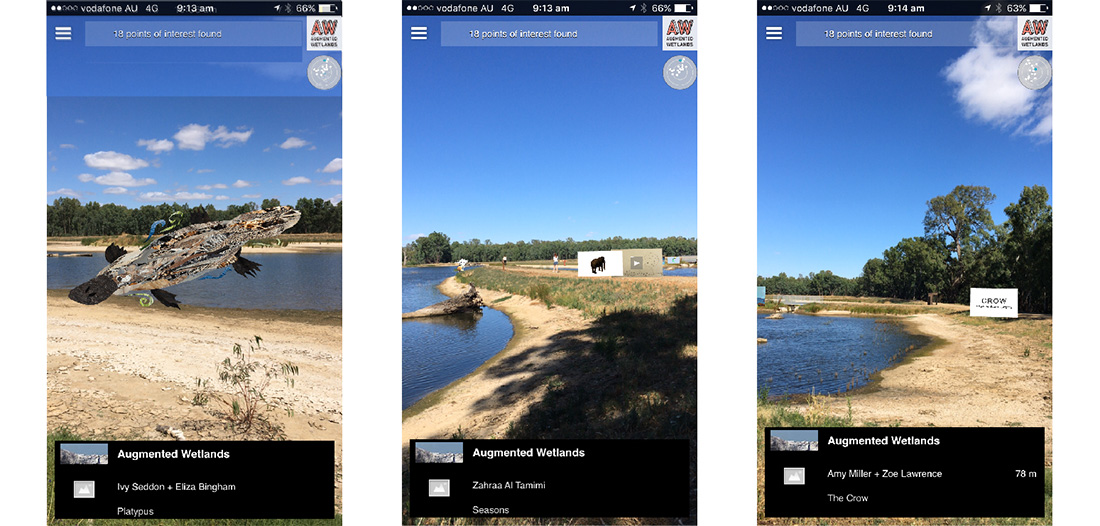 There are a few small steps to be able to see the artworks created:
Download the LAYAR app onto you mobile device from Apple Store/Google Play
Once downloaded go to menu in top left corner and select Geo Layers
Search for our layer "Augmented Wetland" and the artworks should appear as you walk through the Marrambidya Wetland.
The app calls the artworks POI's (points of interest). Use the circular map in the top right corner to pinpoint the individual works.
Alternatively you can download a pdf of the Augmented Wetland map (PDF, 1.7 MB) to your phone or print it.
Please note: because the app uses satellite positioning the artworks can vary to each mobile device.
If you would like to view the student works individually and see some behind the scenes footage, please follow our Vimeo channel https://vimeo.com/augmentedwetland
To learn more about the Marrambidya Wetland visit the Marriambidya Wetland webpage.
Learn about the Augmented Wetland
Learn how the artists and students created the augmented reality artworks situated in Wagga Wagga's Marrambidya Wetland. Choose from the detailed video or the quick explanation.
Augmented Wetlands Doco - Short Version
Augmented Wetlands Doco - Detailed Version