Framing Conflict: Iraq and Afganistan
Main Gallery: 4 May - 15 July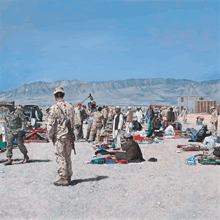 Lyndell Brown and Charles Green, History painting: market, Tarin Kowt, Uruzgan province, Afganistan 2008, oil on linen. Image courtesy of the Australian War Memorial.

Collaborative artists Lyndell Brown and Charles Green travelled to Iraq and Afghanistan in 2007 as the Australian War Memorial's official artist: a tradition that first began in 1917. This exhibition showcases the paintings and photographs Brown and Green created in response to their tour. These exotic and beautiful works reveal the strange and complex nature of contemporary warfare. The major subjects explored in these works include: Australian servicemen and women involved in operational activities or military duties; the massive logistical enterprise that sustains global coalition forces in the region; and the stillness and severity of the expansive and ancient landscapes that frame the conflicts in Iraq and Afghanistan.
Framing Conflict Media Release
An Australian War Memorial Travelling Exhibition.