The Bomen Enabling Roads project will significantly overhaul heavy vehicle access to Bomen Business Park.
The multi-million dollar project will vastly improve road safety in the area, create a potential round trip saving of 36 minutes for Higher Mass Limits (HML) vehicles and better link the industrial precinct with the Olympic and Sturt highway.
The new roads will unlock hundreds of hectares of industrial land for investment into the City of Wagga Wagga.
The works include closing the Dampier Street level crossing and building a rail bridge/road underpass, as well as constructing link roads and a new access road into the Livestock Marketing Centre.
Reconstruction of the Eunony Bridge and the Eunony Bridge Deviation road project (complete 2015) both complement the Bomen Enabling Roads project, by significantly improved access into the Bomen Business Park.
"The total Bomen Enabling Roads project is worth in the vicinity of $40M and we expect it will become a transformative piece of infrastructure that has a significant and long-lasting benefit for current and future businesses and our community." – Mayor of the City of Wagga Wagga Rod Kendall, 2016.
Benefits of Bomen Enabling Roads:
Cater for future traffic demand
Improve and address existing traffic constraints
Address significant safety concerns
Stimulate economic growth by opening up industrial zoned land in Bomen Business Park
Support the potential development of the RiFL Hub
View the Bomen Enabling Roads concept design
Project Diary
November 2017
Official opening of the Bomen Enabling Roads held on Friday 10 November 2017.
Watch the video below of the inaugural running of a B-Triple truck down the newly completed road.
September 2017
Dorset Drive and new road underpass opened to traffic on Thursday 21 September
The opening of these sections provides new access into Bomen, linking Bomen Road to Byrnes Road. The new roads also close the Dampier Street level crossing
Connections to the Olympic Highway, to be known as Merino Road, and new access into the Livestock Marketing Centre, off Dorset Drive, will complete the Bomen Enabling Roads project. These components are expected to be delivered by the end of October
Additional works to date:
All culverts installed at road crossings with drainage and kerb installed along Dorset Drive
Road pavement works complete with 65,000 tonnes of gravel used in the project
All underground services installed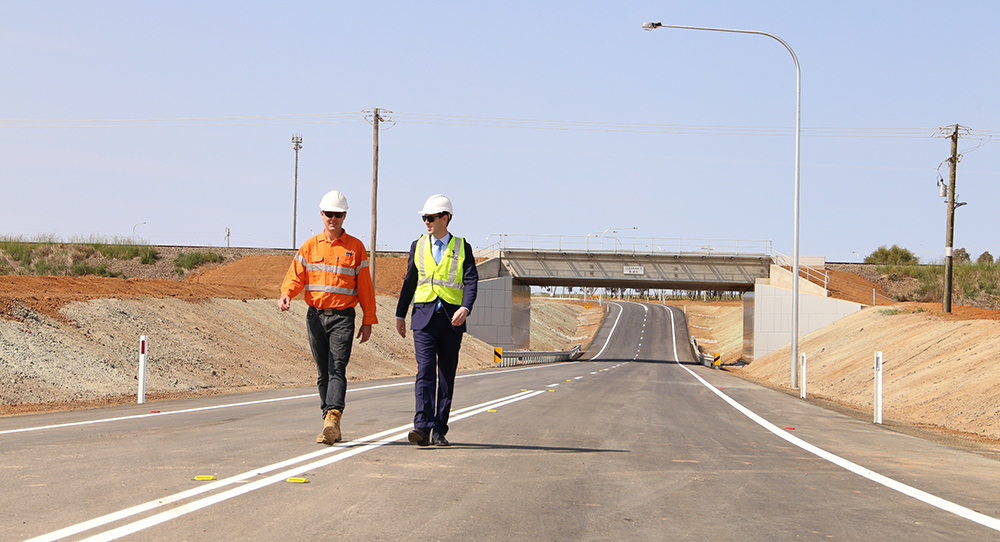 ALL ROADS LEAD TO BOMEN: BMD Constructions' Project Manager Mark Gallagher and Council's General Manager James Bolton inspect the new underpass that forms part of the Bomen Enabling Roads project. This section of road, along with Dorset Drive off the new western roundabout were open to traffic on 21 September 2017.
August 2017
Services and drainage installed along the underpass link road and works on the concrete western roundabout are continuing
Underpass façade design complete and cladding work started
New Dampier Street intersection sealed. Linemarking also complete and both lanes open to traffic
Earthworks are progressing well for the new Livestock Marketing Centre access road
Works on the Olympic Highway intersection are moving along, with concreting for culvert works near complete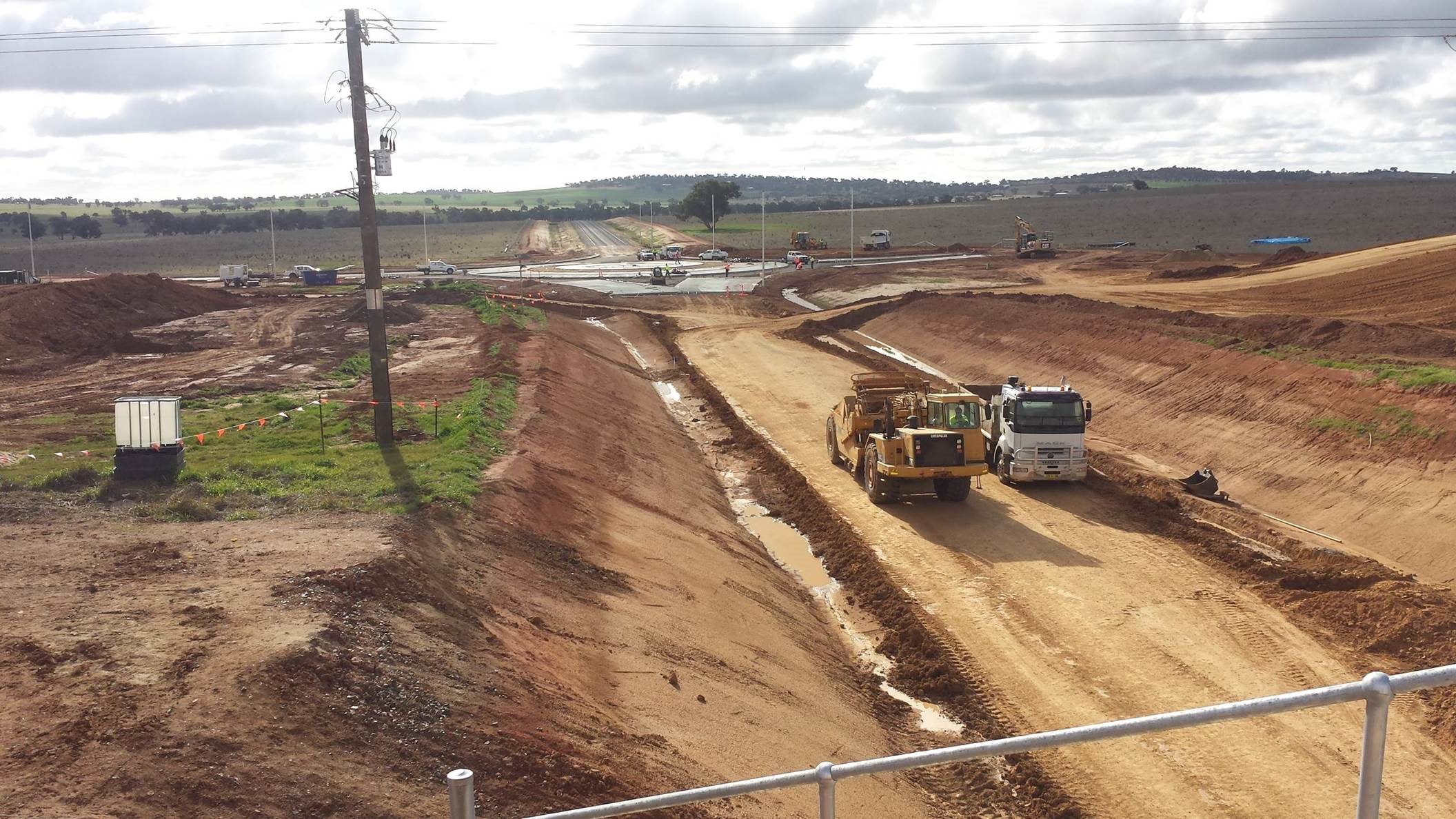 TAKING SHAPE: Looking west from the road underpass to the new western roundabout.
July 2017
On Friday 7 July the first section of the Bomen Enabling Roads project was open to traffic. The 1.4km Byrnes Road realignment opened to north and south bound traffic travelling between Wagga Wagga and Junee. East Bomen Road has also reopened
Built east of the existing roadway, the new Byrnes Road alignment road is wider to better cater for heavy vehicle traffic and connects one of the two new concrete roundabouts included in the Bomen Enabling Roads project
The opening of the new Byrnes Road realignment allowed works to move along on the construction of the road underpass/rail bridge. This road will link the eastern and western roundabouts and once open will close the Dampier Street crossing
Asphalt works on Bomen Road, Dampier Street and new Dorset Drive intersection is under construction with stage one now complete and being used by local traffic. Asphalt works also complete for new LMC access, including installation of entry/egress cattle grids.
Wet weather in early July slowed works at the Olympic Highway connection. Works have increased in the latter part of the month to make up for the lost wet weather time. The Olympic Highway works are expected to be completed late October.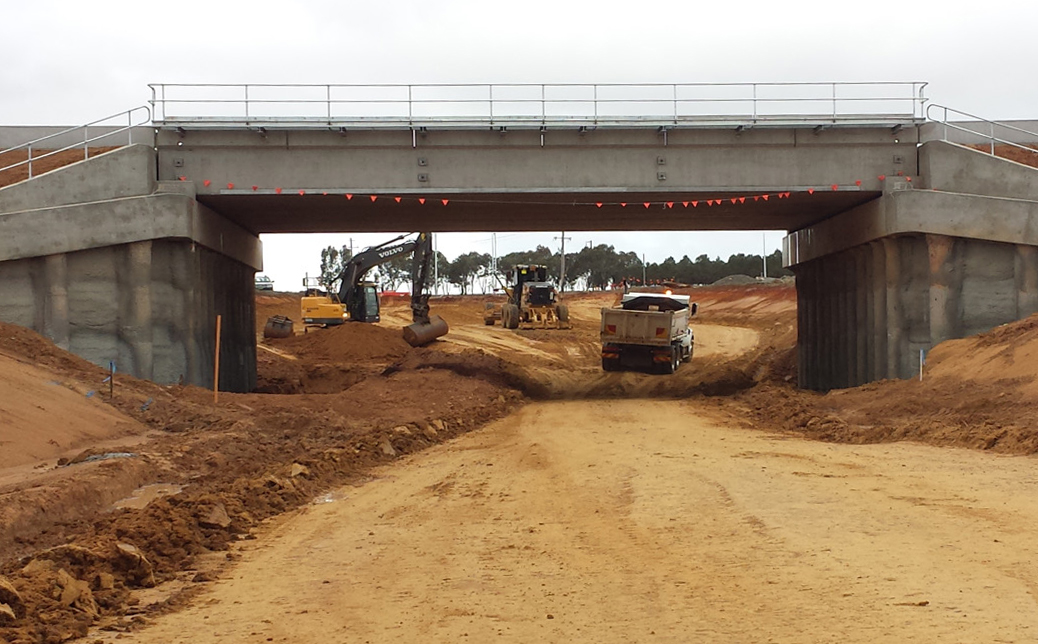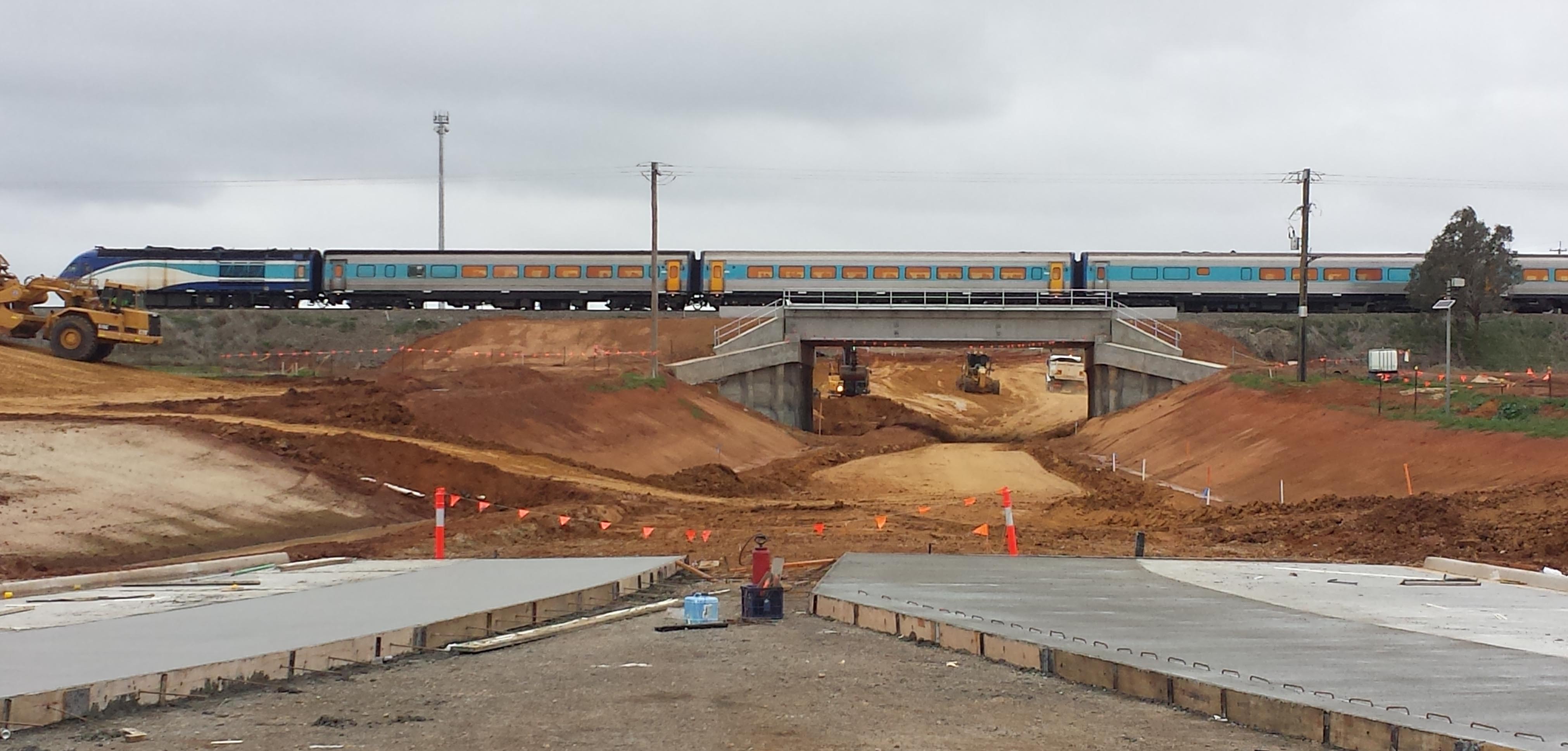 DIGGING IN: Work underway on the new road underpass/rail bridge, and, a passenger train passes over the rail bridge while works are carried out below.
June 2017
Bridge and overpass works complete and excavation works for the road underpass are progressing.
Discussions about closing of Dampier Street level crossing held. In terms of safety, the closing of this crossing is a major milestone in the project.
Two new roundabouts are progressing well. Landscaping is taking place on eastern roundabout and earthworks for western roundabout is in the final stages.
Next stages for the Olympic Highway works include culvert works and Riverina Water working on relocating water main on western side.
Upcoming works include: Completion of Webb Street connection to new Bomen road and progress works to Dampier Street – this will be under traffic control.
May 2017
Bitumen laid on sections of new roadway, incluing new north-eastern entrance to Livestock Marketing Centre (LMC)
Concrete poured for two new roundabouts - one connecting the realigned Byrnes Road and East Bomen Road, the other linking Bomen Road and new LMC access with West Bomen Road
Creation of rail bridge/road underpass, which will close the Dampier Street level crossing, is almost complete, with top section of the tunnel broken through on both the eastern and western sides
Roads on track for end of June completion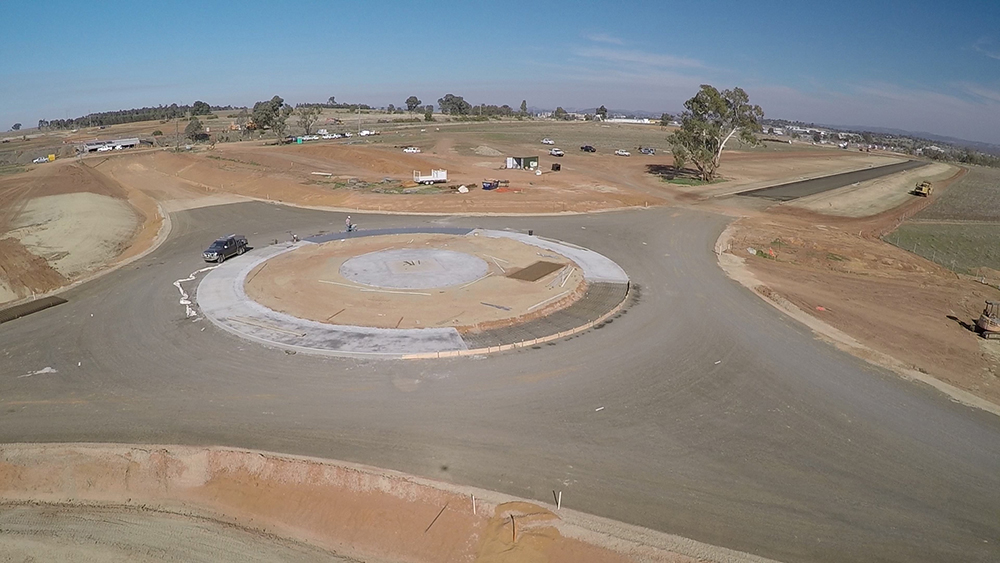 MOVING AHEAD: One of the two new roundabouts is formed in the Bomen Enabling Roads project. The road in the top right of this image will lead into Bomen and form the new heavy-vehicle access to the LMC. In the top left is the rail bridge/road underpass.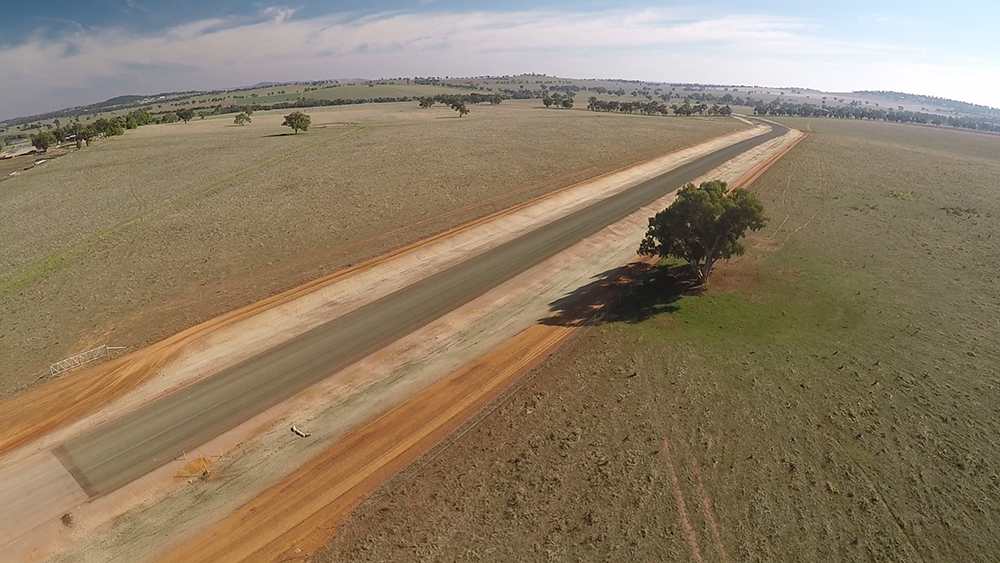 COMING ALONG: Bitumen has been laid on the road leading from Bomen to the Olympic Highway.
April 2017
Roads continuing and are on track. Sealant placed around roundabouts
Eastern side of underpass complete with first train running over new bridge on 19 April at 10.30am
Digging out of the western side of underpass started last week of April
Underpass on track for late-May completion
Access roads to Livestock Marketing Centre (LMC) recalculated and new works to LMC side road to start week of May 31, 2017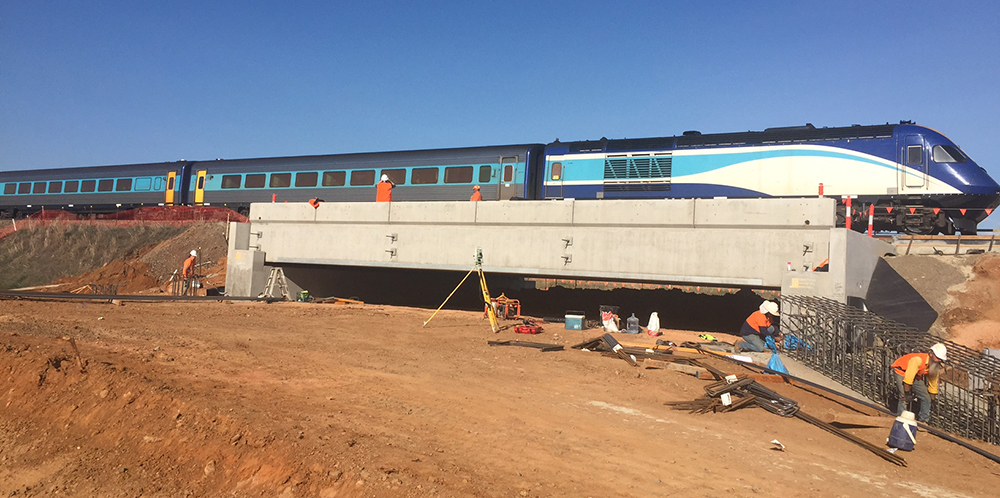 PROGRESS: A train runs over the new rail bridge/road underpass at Bomen.
January - March 2017
Machinery has started digging out rail underpass that will tunnel under the main Sydney to Melbourne rail link. The underpass will be a vital link in the new Bomen road network, connecting the new east and west roadways being built as part of the $40M project, and resulting in the closure of the Dampier Street level crossing
All culverts installed at road crossings and drainage (sewer and stormwater) works started
Road pavement works started, with 100,000m3 of gravel now on site
All underground services redirected in preparation for underpass construction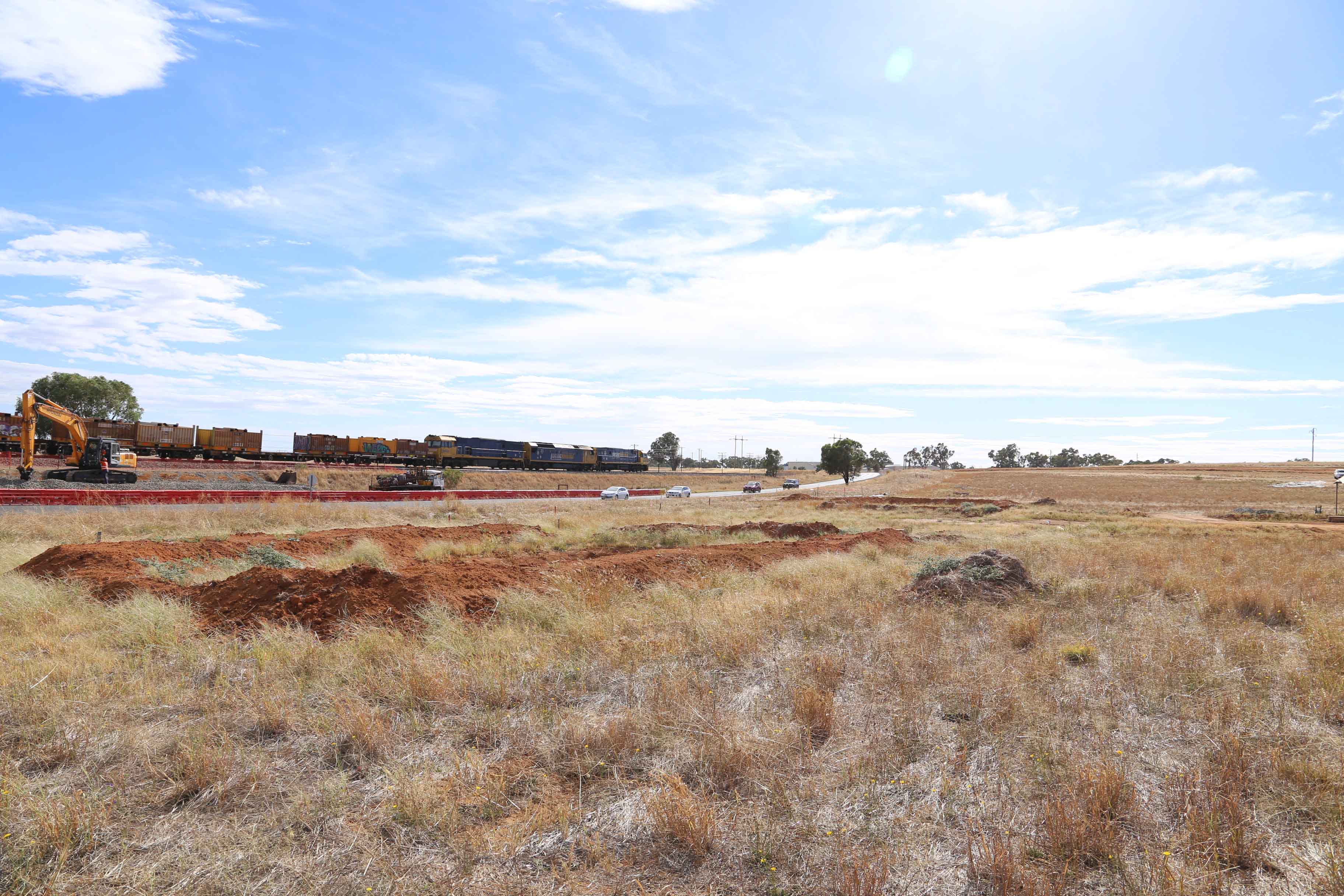 Bomen Enabling Roads project - March 2017 - rail underpass construction
December 2016
About 25,000 tonnes of material has been removed from site and 40,000 tonnes of fill has been used
The 6.4km of roadwayshave been formed, with about 500,000m3 of earth removed from site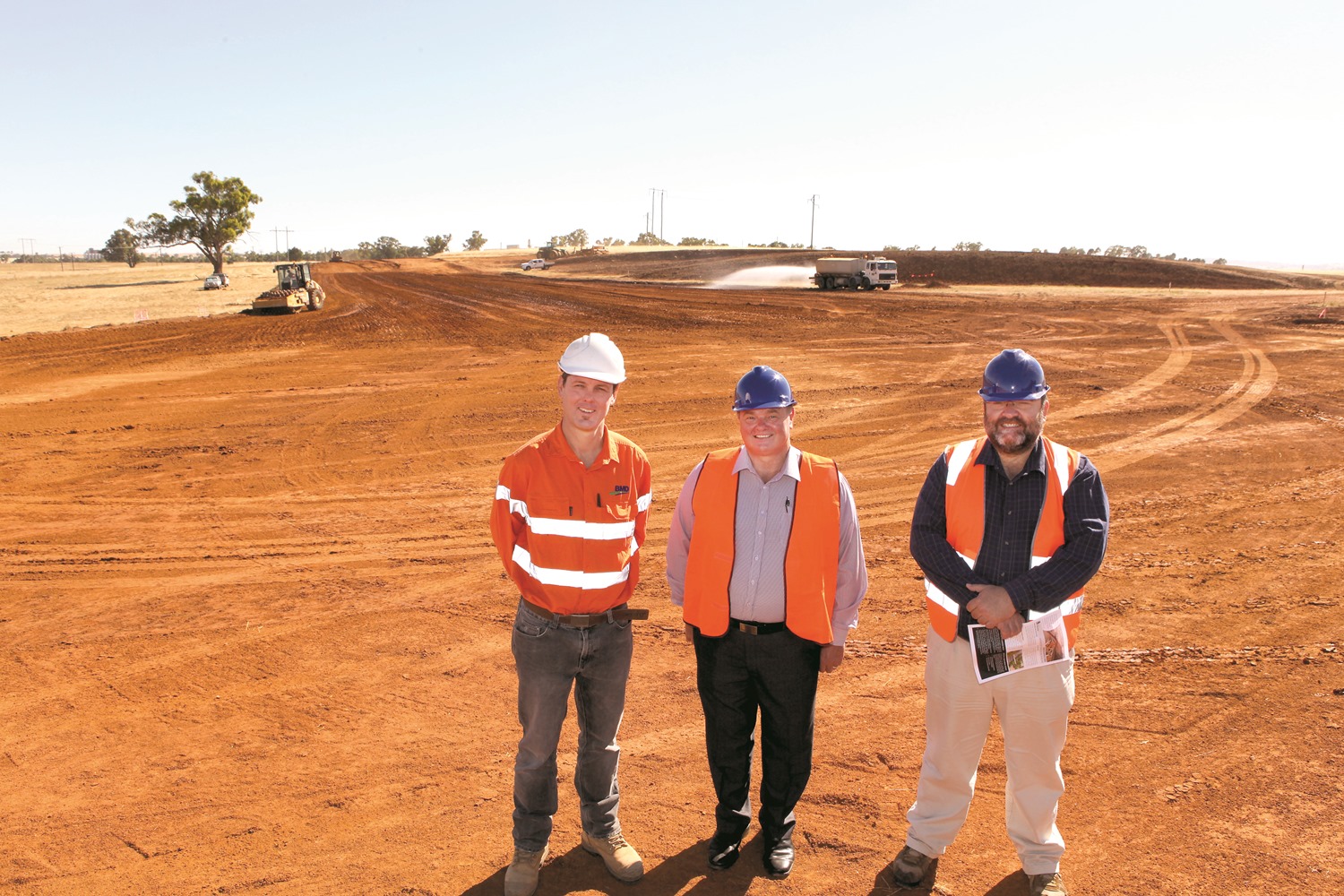 Bomen Enabling Roads project - December 2016 - BMD Constructions project manager Mark Gallagher, with City of Wagga Wagga's General Manager Alan Eldridge and project manager Silas Darby
October - November 2016
1.2km of rail siding removed
Earthworks began
September 2016
Site preparations including onsite survey and soil investigations carried out

Bomen Enabling Roads project - December 2016 - roads being cut
August 2016
Negotiations finalised and contracts exchanged with successful tenderer for delivery of Bomen Enabling Roads project, BMD Constructions. Read more.
June 2016
State funding of more than $13M secured for delivery of Bomen Enabling Roads and Eunony Bridge Hub projects. Read more. This funding is in addition to a Federal Government funding contribution of $14.5M towards the project.