New recreational changes are coming to Forest Hill oval in 2017. A community consultation session held with Forest Hill residents in late 2016 revealed overwhelming support for a skatepark to be included at the oval. In addition to the skatepark a number of other upgrades will also be made to improve the appeal and usability of the oval for all users.
About the project
Forest Hill is one of the fastest growing areas in the Wagga Wagga Local Government Area (LGA). Forest Hill Oval was identified for renewal as part of the City of Wagga Wagga's long-term commitment to improve park and play areas across the LGA.
A modular-style skatepark will be installed at the park. Compared to concrete facilities, modular skateparks provide a greater variety of design elements and are made from flexible and impact-absorbing materials, which can help reduce injuries. This will be the first module-style skatepark in the LGA.
What's new?
In addition to the skatepark, the Forest Hill Oval upgrade also includes:
Synthetic grass on junior cricket pitch (completed)
Standalone barbecue shelter, barbecue and two table settings with concrete base
Relocation of existing playground closer to amenities building
Planting of established trees for shade
New bike racks
Link footpath from carpark to amenities and recreational facilities
New multi-use exercise equipment
New bubbler (completed)
Two 240litre bins
Enclosed designated off-lease dog area
Replace basketball backboards and netball ring
Two new table settings under existing shelter
Extra seating
Extended concrete area under existing shelter (completed)
The total project value is $328,000, fully funded through Section 94 and 94a contributions. The bulk of the works are expected to start in March 2017, with the skatepark to be fitted and ready for use by June 2017.
Want more?
On Wednesday 26 July, the Forest Hill Oval improvements were officially opened by Mayor of the City of Wagga Wagga Councillor Greg Conkey OAM. The skatepark is the sixth in the city and has been a hit with the Forest Hill locals. The skatepark is one part of a $300,000 overhaul of the Forest Hill Oval, with all improvements focussing on increasing the social and inclusive environment within the Forest Hill community.
Project Diary
As with most major infrastructure development, impacts to the community will occur during construction. Every effort will be made to minimise impacts or delays to the community. Any impacts during construction will be communicated to the community in a timely manner. The community is thanked for their cooperation during the delivery of this project.
26 July 2017 – Forest Hill Oval improvements officially opened by Mayor of the City of Wagga Wagga, Councillor Greg Conkey OAM.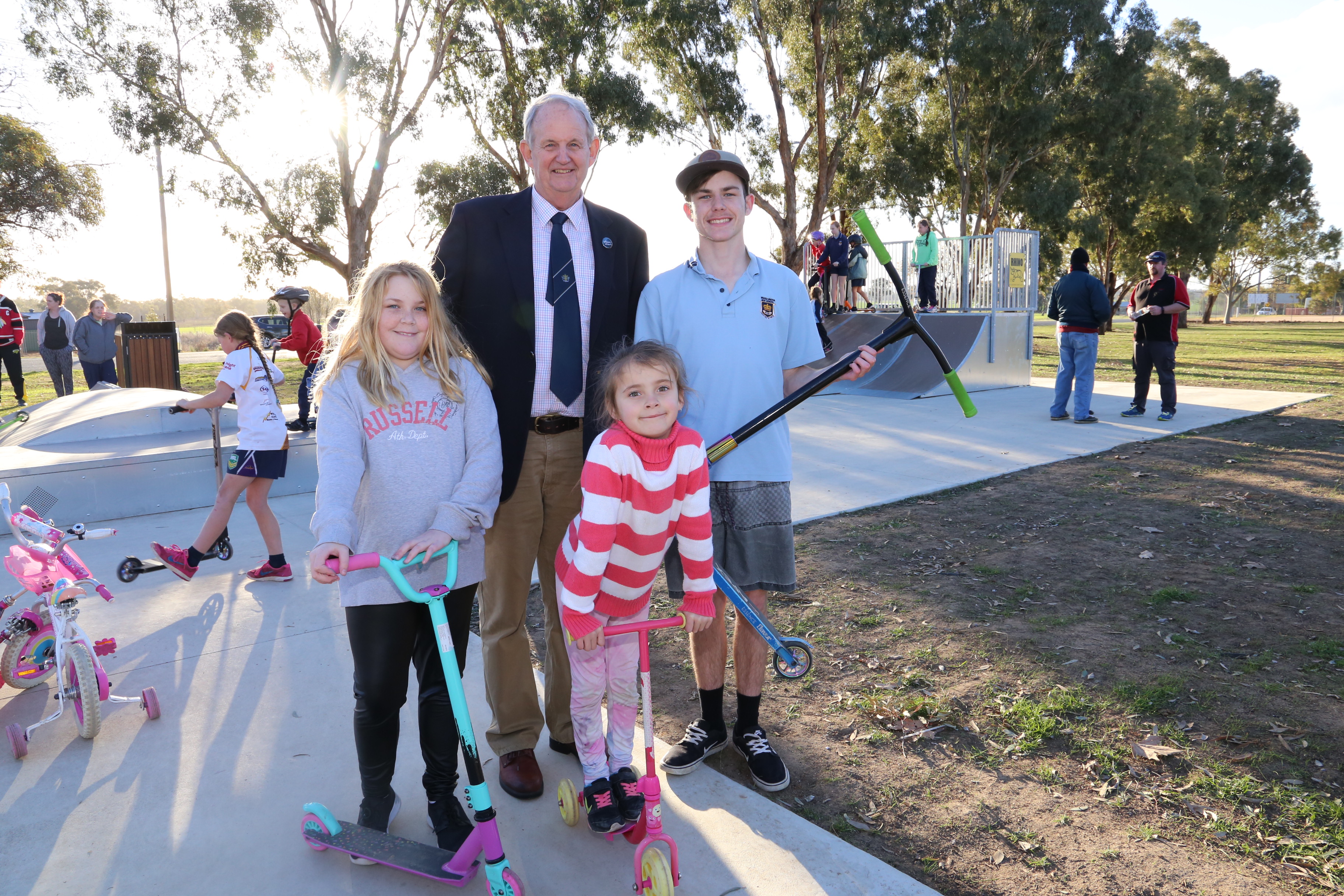 RAD AS: At the opening of the Forest Hill Oval improvements are Mayor of the City of Wagga Wagga Greg Conkey OAM with Forest Hill kids Mikayla Penman, 11, Bella Rutland-Kelleher, 7 and Mitchell Penman, 16.
12 July 2017 – Skatepark opens, much to the delight of Forest Hill locals. The skatepark is the city's sixth.
5 July 2017 – Work starts on installing some of the modular pieces for the new skatepark
June 2017 - Fitness stations to be installed this month. Skatepark components due to arrive on site mid-June with construction/assembly to start soon after. Fencing for dog off-leash area and relocation of exsiting playground closer to amenities to be complete.
May 2017 - All concrete footpaths complete. Barbecue shelter, barbecue and picnic furniture installed.
April 2017 - Site prep work starts for new skate park. Concrete slab for skatepark poured.
December/January 2017 - New footpaths installed from car park for better access into the park area, new concrete poured under amenities building, bubbler installed and synthetic turf on junior cricket pitch laid.
September 2016 - Onsite community consulation to gauge community expectation for new park upgrades. Skate park was overwhelming favourite.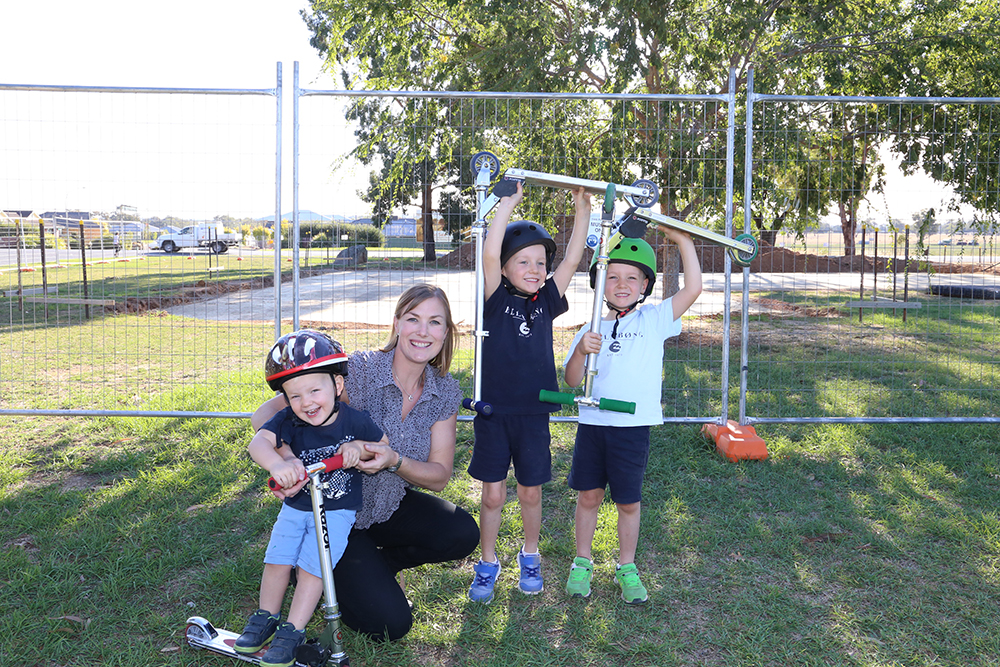 CAN'T WAIT: Forest Hill kids Braxton, Zander and Xavier Peters and their mum Alisha are excited to have a skate park in their own neighbourhood.