About the project
The city's footpath network is set to be reinvigorated, with Wagga Wagga City Council rolling out more than one million dollars' worth of footpath upgrades across the city in 2017-18 and 2018-19.
New works will occur across seven suburbs including Forest Hill, Tolland, Mount Austin, Glenfield and Kooringal.
Letters will be sent to residents who are impacted, prior to works commencing, detailing specific locations of works, works to be completed and project timeframes.
The completed and planned works align with important documents within Council's planning framework, including the Community Strategic Plan 2040 – Wagga View and Disability Inclusion Action Plan 2017 – 2021.
As per Council's recently updated engineering guidelines, new footpaths will be 1.5 metres wide to allow sufficient space for pedestrians and/or permitted wheeled devices, such as mobility scooters or prams, to pass side-by-side. Where necessary pram ramps will also be installed
Works programme
The footpath network upgrade will be delivered under the following programme (weather permitting, this may be subject to change)
Stage 2: COMPLETE
Yentoo Drive, Glenfield - 17 September to October 2018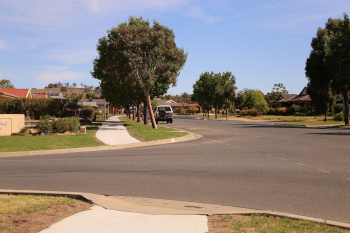 Stage 1: COMPLETED June 2018
Raye Street, Tolland - Mid-March to late March
Ramus Street, Tolland - Early April to mid-April
Dunn Avenue, Forest Hill - Mid April to late April
Kurrajong Avenue, Forest Hill - Late April to early May
Cyprus Avenue, Forest Hill - Early May to mid-May
Zeigler Avenue, Kooringal - Mid-May to late May
Walteela Avenue, Mount Austin - Late May to early June
Jack Avenue, Mount Austin - Mid-June to late June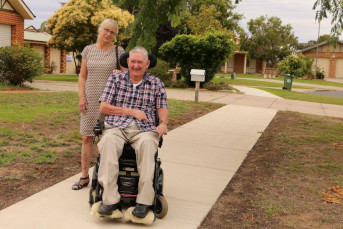 BETTER CONNECTED: Glenfield residents Beryl and John Stevens testing out the new footpath on Nardoo Street, which they say has made it easier to get around their neighbourhood
Want more?