Swimming pool owners should ensure that appropriate fencing, gates, locks and signs are maintained in the pool area, and that relevant requirements under the Swimming Pools Act 1992 are met. A new pool should not be filled, or an existing pool refilled unless these requirements are met.
Are you a private swimming pool owner? – YES – Well with the summer fast approaching it is now a great time to check if your child resistant barrier is safe and well maintained.
People often think that a child drowning on their property will never happen, but in reality in Australia it occurs far too often.
Pool owners are legally responsible under the NSW Swimming Pools Act to ensure that swimming pool safety barriers on their property are properly installed, maintained and comply with Australian Standard AS1926.
For useful information and self-assessment checklists for pool barrier inspections visit the NSW Swimming Pool Register on www.swimmingpoolregister.nsw. gov.au or contact Council if you have questions.
Council also has an obligation under the Act to educate and promote backyard pool safety in their communities.
If Council have not been informed that the pool construction has finished, there may not have been a final inspection and final Occupation Certificate issued. If you have a swimming pool that was installed recently and you have not arranged for a final inspection, please be aware that it is an offence to use the pool until it has gained a Final Occupation Certificate. For more information or to arrange an inspection please contact Council.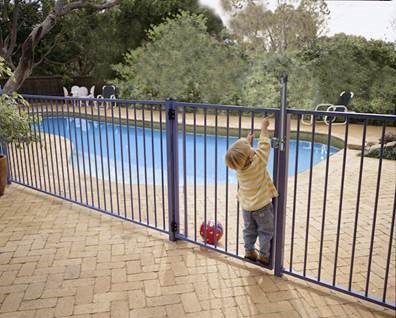 As the weather warms up and we are on the lookout for Christmas presents, it can be very tempting to grab one of those affordable portable swimming pools that cost between $50 and $100.
What most people don't realise is that depending on the pool's water depth and volume a $50 portable swimming pool may be treated the same under NSW Swimming Pool and Planning law as a $50,000 permanent in-ground swimming pool. This means that planning approval from Council and a pool safety barrier, resuscitation sign and inspection for compliance may be required. Whilst this may sound very bureaucratic and "over the top" there is good reason to have these controls in place – portable pools that are not appropriately secured present a real danger to young children.
Although nothing can substitute for appropriate supervision, swimming pool safety law has been introduced to help reduce this danger. As a guide, a small pool (water depth not able to be more than 30cm and volume less than 2000 litres) doesn't need a child resistant barrier (fence) and no planning approval is required. A medium pool (water depth capable of being greater than 30cm but water volume less than 2000 litres) MUST be protected by a child resistant barrier (fence), must be registered on the NSW Swimming Pool register, MUST have a resuscitation sign but it does not need planning approval. Larger pools (water depth capable of being greater than 30cm and volume greater than 2000 litres) require approval, registration and all the protective measures.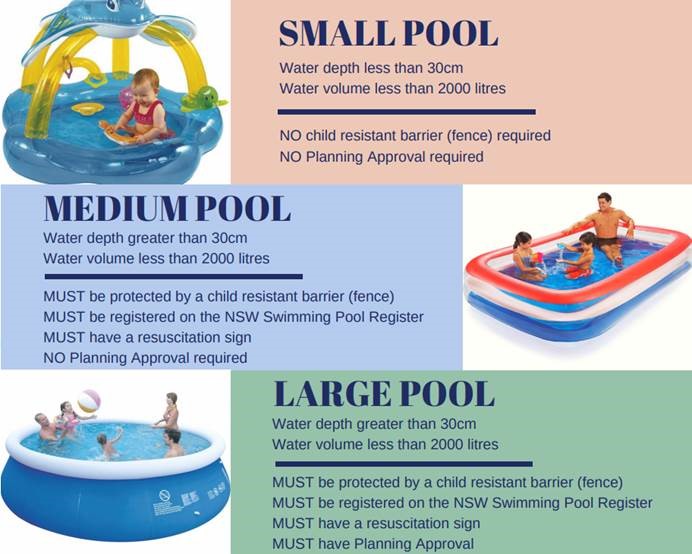 Sale of properties with a swimming pool
All properties with a swimming pool or spa pool being sold or leased on or after 29 April 2016 will need a valid certificate of compliance or a relevant occupation certificate.
After 29 April 2016, the following will be 'prescribed documents' if the contract relates to land on which there is situated a swimming pool:

(a) a valid certificate of compliance issued under the Swimming Pools Act 1992,
(b) a relevant occupation certificate and evidence that the swimming pool is registered under the Swimming Pools Act 1992,
(c) a valid certificate of non-compliance issued under the Swimming Pools Regulation 2008.

All contracts for sale that are exchanged after 29 April 2016 must have either a swimming pool certificate of compliance or a certificate of non-compliance.
Vendors are now able to transfer the obligation of obtaining a certificate of compliance to the purchaser. The transfer of the obligation will be realised through the attachment of a certificate of non-compliance to the contract for sale.
Where a local authority inspecting a swimming pool believes that the pool represents a significant risk to the public, a 'direction' can be issued immediately (section 23(6)
The certificate of non-compliance will be generated from the Swimming Pool Register. The procedures will be generally the same as generating a certificate of compliance.
The certificate of non-compliance must be issued within 7 days after inspection.
The certificate of non-compliance is valid for 12 months.
The buyer will have 90 days from the date of settlement to rectify defects listed in the certificate of non-compliance and obtain a certificate of compliance.
Accredited certifiers are still required to report to councils under section 22E(4) of the Swimming Pools Act 1992 to discharge their obligations.
Leasing of properties with a swimming pool
When leasing a property with a swimming pool, the landlord agreesto ensure that the requirements of the Swimming Pools Act 1992 have been complied with. The landlord agrees to ensure that at the time that this residential tenancy agreement is entered into: the swimming pool on the residential premises is registered under the Swimming Pools Act 1992 and has a valid certificate of compliance under that Act or a relevant occupation certificate within the meaning of that Act, and a copy of that valid certificate of compliance or relevant occupation certificate is provided to the tenant.
This will commence from any new lease agreement signed after 29 April 2016.
These provisions will not apply if:

the swimming pool is situated on land in a strata scheme (within the meaning of the Strata Schemes Management Act 1996) or
in a community scheme (within the meaning of the Community Land Development Act 1989) and
that strata or community scheme comprises more than 2 lots.
The Swimming Pools Amendment Act 2012 commenced on 29 October 2012 and makes a number of amendments to the Swimming Pools Act 1992 which impact on pool owners and councils. Swimming pool owners are required to register their swimming pools at swimmingpoolregister.nsw.gov.au.
Additional information about the staged implementation provisions is also provided in the Swimming Pools Fact Sheet (PDF, 151.5 KB).
When a pool or spa is being constructed or altered, a principal certifying authority (PCA) must supervise all works. The PCA is essentially a building inspector, and is responsible for ensuring that new and altered swimming pools and spas comply with relevant Development Consents and Complying Development Certificates.
The PCA should ensure that all necessary requirements are met before issuing an Occupation Certificate. Under the Environmental Planning and Assessment Act 1979, the PCA must report any failure to comply with these requirements to Wagga Wagga City Council.
Under the Public Health (Swimming Pool) Regulations, Council is required to:
Conduct testing of water quality of commercial and semi-commercial pools
Conduct compliance checks to ensure pools meet the guidelines
Educate commercial operators as appropriate
Issue closing orders if necessary.
Ensure that the pools fence and gate is well maintained. Make sure the gate is closed at all times and never prop it open.
Keep objects away from the pool area, so that children cannot use them to reach the gate latch or climb the fence.
Have knowledge and be confident with resuscitation techniques. You must have a comprehensive resuscitation chart displayed near the pool area for reference, and obtain a first aid certificate through the local St. John's Ambulance or Red Cross Society.
Establish safety rules for the pool area, and strictly enforce them, (such as no running around the pool, no pushing into the water etc.)
Ensure that toys or other objects are not left floating in the pool. They are very attractive to small children.
Have a non-slip surface around the pool.
If you are overheated, overtired, have been drinking alcohol, or have just finished a meal, don't go swimming.
Always remain alert when children are near the pool. It only takes a few seconds for a child to drown so never take your eye off them.
Have children taught water confidence at an early age.
Always keep extension leads or plugs off damp ground and away from the water.
In NSW there are specific laws. Read more about the:\
The Public Swimming Pool and Spa Pool Advisory Document both complements and gives an overview of the public health legislation related to public pools and spas. The advisory document explains the diseases which can be transmitted in a pool environment and provides a bacteriological criterion to determine pool safety.
Following on is an explanation of the use of chlorine or bromine dosing levels and monitoring to achieve effective disinfection and good water quality. Also, design, construction and amenities are considered so that pool management is enhanced.
A risk management approach is explained to manage pools, particularly to control Crytosporidium outbreaks which are resistant to disinfection.
The advisory document is intended for all pool operators, designers and consultants.