Why use the Community Recycling Centre (CRC)?
Not all household waste can be put in your kerbside bins. Community Recycling Centres offer a FREE and EASY solution for the disposal of household problem waste such as paints, gas bottles, motor oils, batteries, smoke detectors and fluorescent globes and tubes.
Many of these materials can be reused and recycled if processed correctly. Recycling helps our environment because it saves water, energy and natural resources.
REROC Waste Forum CRC Riverina Murray Ad from REROC on Vimeo.
Community Recycling Centre Brochure 159.1 KB Download
CRC Locations
Gregadoo Waste Management Centre
Address: 132 Ashfords Rd, Gregadoo NSW 2650
Hours: Monday – Sunday 7:00am - 4:30pm
Contact: 1300 292 442
What you can drop off: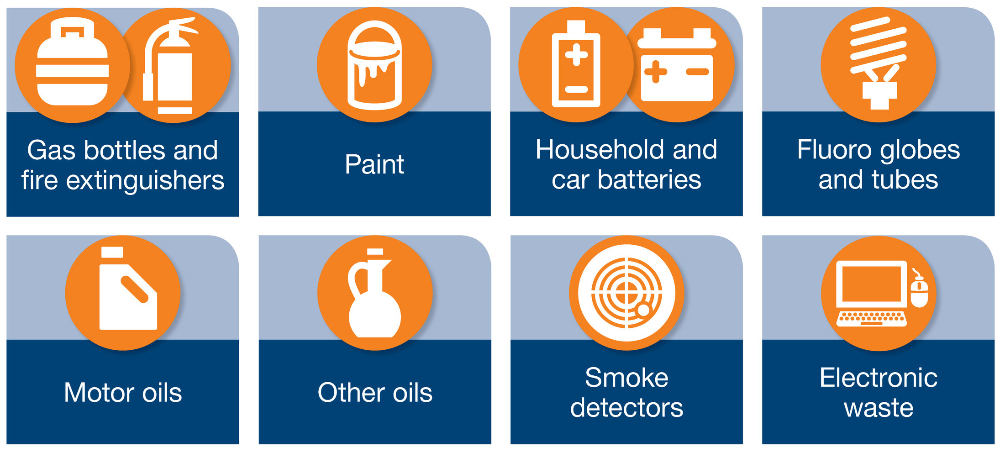 Only household quantities accepted 20kg or 20L maximum container size. Please transport your materials carefully. Dangerous goods and items other than those listed will not be accepted.
Other Regional CRC Locations
Drop off your problem waste at one of 25 Community Recycling Centres (CRC) or one of the CRC Small Drop Off Stations in our region. To see all locations, visit the CRC Riverina Murray website:
CRC Riverina Murrary Locations
Small Drop Off Locations
Residents can drop off small special wastes for recycling for FREE at the Civic Centre on the corner of Baylis and Morrow Streets, Wagga Wagga and at the Tip Shop at the Gregadoo Waste Management Centre.
Civic Centre Foyer
Address: Cnr Baylis and Morrow Street, Wagga Wagga
Hours:
Monday - Friday: 8:30am – 6:00pm
Saturdays: 10:00am – 4:00pm
(closed public holidays)
Contact: 1300 292 442
Tip Shop
Address: 102 Ashfords Rd, Gregadoo NSW 2650
Hours:
Saturday, Sunday and Monday: 8:00am - 4:00pm (weather permitting)
Contact: 1300 292 442
What you can drop off:
The Community Recycling Station at these locations accept household quantities of:
Ink Cartridges
Household batteries
Globes
Mobile Phones including access