The granting of the Freedom of Entry to the City (FOC) is a symbolic presentation which represents the highest honour that a city can confer on an individual or a Military Unit.
Freedom of Entry to the City is a ceremonial honour which became popular during the nineteenth century and draws some inspiration from medieval history. The FOC can be presented to individuals by the Mayor at a special Council Meeting or Civic Ceremony, to acknowledge the contribution of that individual or organisation and to recognise the outstanding service and commitment to the City. An Illuminated Address is presented to the recipient as part of the ceremony.
When a FOC is granted to a military unit, it is celebrated with the presentation of an Illuminated Address and a parade of the unit through the city streets with "swords drawn, bayonets fixed, drums beating, band playing and Colours flying" and is followed by a civic reception.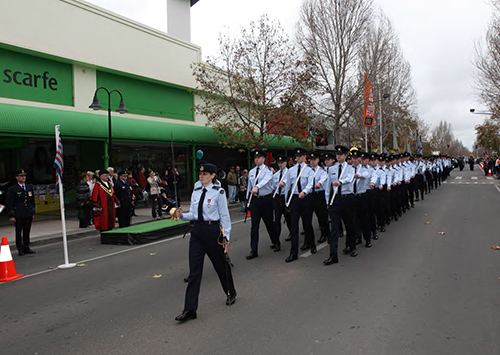 | Year | Recipient |
| --- | --- |
| 1957 | The Hon E.H. Graham, MLA, Minister for Agriculture & Member for Wagga Wagga |
| 1961 | Royal Australian Air Force Base Wagga Wagga |
| 1962 | Kapooka Military Area |
| 1967 | The Most Reverend F.A. Henschke, D.D., Second Bishop of Wagga Wagga |
| 1974 | The Sisters Presentation Order, Mount Erin |
| 1978 | Alderman R.J. Harris, BA Dip Ed. |
| 1982 | The Hon Wal Fife MP, Minister for Aviation and Member for Farrer |
| 1995 | Councillor R.F. Harris |
| 1996 | Professor C.D. Blake, AM, Vice Chancellor Charles Sturt University |
| 1998 | The Hon J Schipp MP, Member for Wagga Wagga |
| 2001 | The Officers and Crew of HMAS Wagga Wagga |
| 2007 | Mr Pat Brassil, AM |
| 2009 | Australian Army Band Kapooka |
| 2010 | Mrs Kay Hull, AM |
| 2015 | Royal Australian Air Force Base (RAAF) Base Wagga |
The Illuminated Address
Illuminated addresses were a popular way to mark special occasions or outstanding service from the 1880s to the 1930s. The tradition of presenting the Illuminated Address, although rare these days, is seen as a special way of recognising the recipient.
The wording for the Illuminated Address is formulated after thorough research and gathering of information on the recipient. This may include any special projects that the recipient was involved with, any fundraising activities or volunteer work etc.
The wording is included in a report to Council for consideration and adoption. A Council resolution is required for the process to proceed.
The Illuminated Address may also include a photograph of the recipient and drawn images of items of importance to the recipient. A local artist is then engaged to produce the final farmed document.