Listen in to learn more about the Wagga Wagga City Council Public Art Collection through stories of the artworks and interviews with the artists
Taking you along the banks of the Murrumbidgee River, through the CBD and along Fitzmaurice Street, this walking tour will introduce you to a selection of the wonderful artworks in Wagga Wagga.
As you walk, scan the QR code at each stop to hear interviews with artists and the inspiration behind the artwork. The reasonably flat walk is approximately 3km and will take about 45-60 mins at an easy pace.
Share and tag your pics on socials:
#visitwagga @visitwaggawagga
Introduction
Acknowledgement spoken by Bernard Higgins.
Narration and content by Ashleigh Adams.
Sound and music by Sam Webber Sound.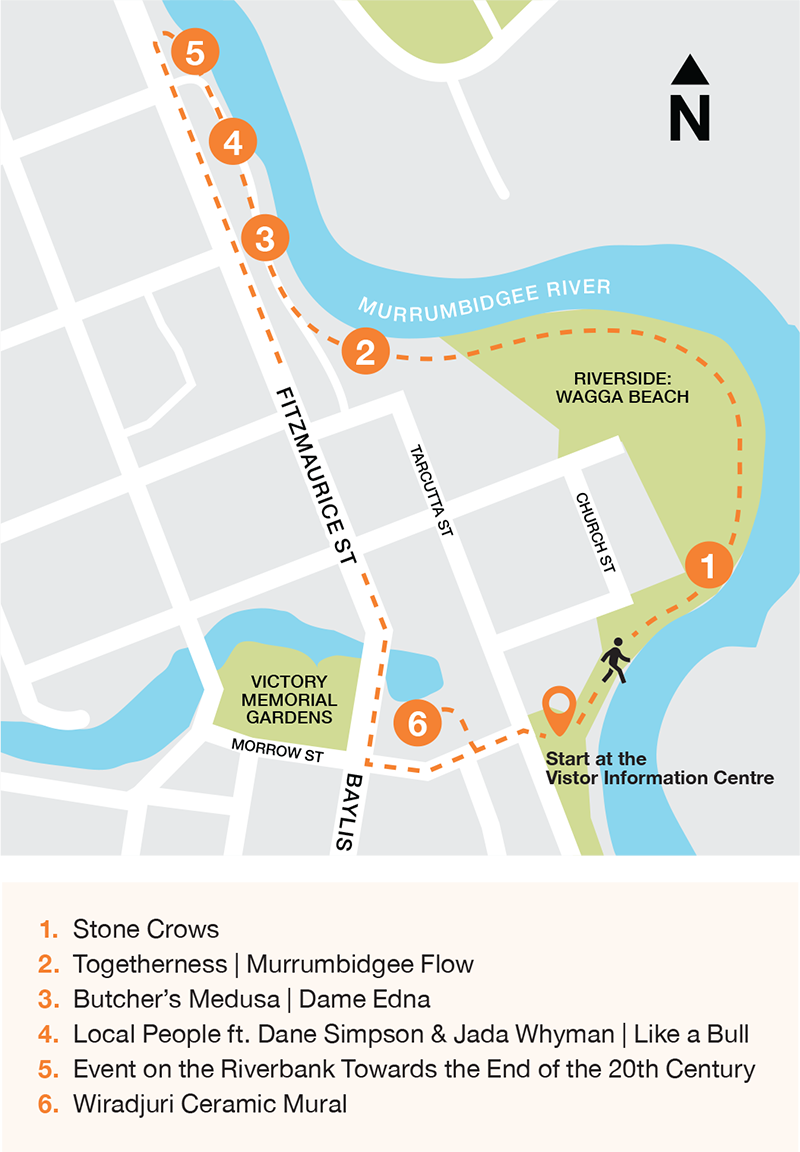 This podcast is produced by Wagga Wagga City Council. Episodes 1-6 were made possible through the Australian Government's Regional Arts Fund, which supports the arts in regional and remote Australia. Episodes 7 & 8 were made possible by funding through the Australian Government's Culture, Heritage and Arts Regional Tourism program.

Acknowledgement of Country
Wagga Wagga City Council yali gulbali-yanhi ngurambang Wiradyuri.
Walumaldhaany-galang bala mayiny Wiradyuri.
Yindyamali-yanhi mudyiganggalang-bu balumbambal-bu balugirbam-bu.
Yindyamali-yanhi bagaraygan ngurambang-guwal-i yandu murun.wigi Wagga Wagga-dha.
Ngiyanhi gulbali-bu yindyamali-bu guwiinyguliyalagu buyaa-bu giilaang-galam-bu.
Ngiyanhi gulbali-bu yindyamali-bu guwiinyguliyalagu dhaagun-bu bila-galang-bu nganha Wiradyuri-giyalang bala burrambin-bu nurranurra-bu.
Gulbali-yanhi Wiradyuri mayiny bagaraygan-guwal-bu bala yarruwala-bu waluwin-bu walanbam-bu dhirrangal-bu.
Wagga Wagga City Council acknowledges the traditional custodians of the land, the Wiradyuri people, and pays respect to Elders past, present and future and extends our respect to all First Nations Peoples in Wagga Wagga.
We recognise and respect their cultural heritage, beliefs and continuing connection with the land and rivers.
We also recognise the resilience, strength and pride of the Wiradyuri and First Nations communities.