Wiradjuri Reserve is located south of the city centre and has long been utilised by the people of Wagga Wagga as a recreational space for boating, fishing and swimming.
The reserve is also a significant location for the Indigenous Wiradjuri people from the Wagga Wagga area. The reserve served as a traditional Wiradjuri camping place with access to the riverside, beach and shallow water.
Wiradjuri Reserve upgrades
The Riverside Strategic Master Plan identified some key objectives for Wiradjuri Reserve to improve the visual appeal, natural environment and recreational facilities. Several key projects have been completed since 2010 to meet these objectives. These include an upgrade to the existing amenities block, construction of a boat ramp and fencing of natural vegetation areas.
Boat Ramp
Completed in 2012, this project involved the construction of a boat ramp, car parking areas and improvements to the road system into Wiradjuri Reserve. This was a key project for the activation of the reserve and serves as the major access point to the Murrumbidgee River in Wagga. The project was funded in partnership with Roads and Maritime Service (RMS) and Wagga Wagga City Council.
Wiradjuri Reserve Amenities Block
The Wiradjuri Amenities was upgraded in 2012 under Wagga Wagga City Council's facilities upgrade program. The upgrade saw the ageing facility receive a much needed upgrade with new fitting and fixtures, painting and a new roof. This project was completed to compliment the new boat ramp and parking areas.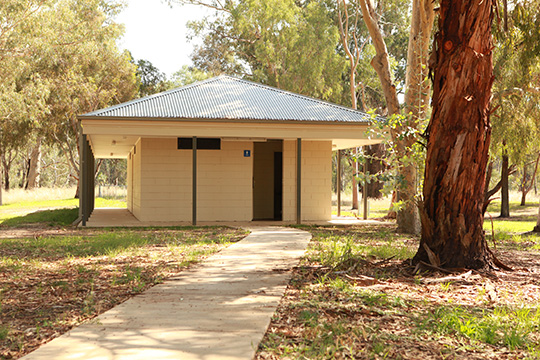 Wiradjuri Reserve to Gobba Beach - Aboriginal Significance
The Wiradjuri Reserve to Gobba Beach corridor of the Murrumbidgee River is an Aboriginal camping and meeting area used from traditional to modern times. The area is significant as a former gathering, corroboree, fishing, camping, swimming and river crossing place for local Wiradjuri groups.
The area is rich in resources including plants, land, fresh water animals and water. It is also the location of a traditional Wiradjuri river crossing place where, according to traditional stories, the carer of the 'Nurrang gungali' or crossing place resides.
A shanty town, or fringe camp, was established on the Wiradjuri Reserve in the 1930s. The settlement, locally known as "Tintown", consisted of numerous huts occupied by both Aboriginal and non-Aboriginal families, dependent on government rations during the Great Depression.
Though the town authorities tried to clear the Tintown camp in the 1940s, people continued to live in the settlement until the 1950s.
Jack Argus, who was born in 1922 and grew up at Tintown, said: "There were hundreds of huts on both sides of the river, Aboriginal and white families. It used to be known as Tent Town here, then it was Tintown and then later people called it the Bend. You didn't like to be known as coming from Tintown, so you called it the Flats, because people didn't know where that was" (Kabaila 1998).