Please note: The scheduling of appointments for the preparation of memorials may take up to a month, depending on the current number of active requests underway. Cemetery Staff are available to assist with initial enquiries by phone on 02 6926 9310 and email at cemetery@wagga.nsw.gov.au
Staff are receiving an increasing number of requests for assistance with the development of memorial items and other essential services. We advise that there may be up to a two-week timeframe for the preparation of quotations.
Your patience at this time is greatly appreciated.
---
These sections are currently available for new graves at the Wagga Wagga Lawn Cemetery: sections Eight, Nine, Eleven, Twelve, Natural Burial and Forget-Me-Not Children's Section.
While these sections are traditionally used for burials, the graves can also accommodate cremated remains, allowing family members with different needs to be together. Reservations are also available within the Lawn Cemetery. Each current section at the Wagga Lawn Cemetery has different memorial options to meet different cultural, religious and personal preferences.
Memorials are not included in the cost of burial or cremation and all memorial components must be ordered through the Cemetery office. Staff at the Cemetery are available to assist you in choosing the right memorial for your loved one. Memorial arrangements are by appointment only, so please contact the Cemetery office on 02 6926 9310 to make a suitable time.
The follow drop downs outline the different sections currently available, for information on memorial plaque options, contact the Cemetery office. You can also find out everything you need to know about memorials in the Lawn Cemetery by downloading the following booklet:
Lawn Memorialisation Booklet 3.7 MB Download
Lawn Memorial Sections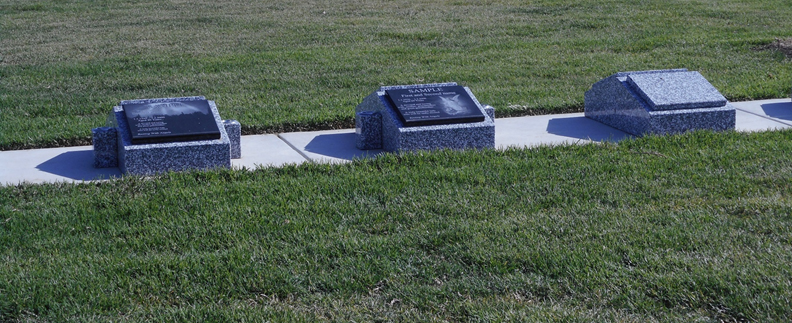 Section 12 is located on the eastern side of the cemetery and consists of granite monuments on a concrete beam.
One headstone is permitted per position. Headstones are constructed from a Harcourt granite base with an Imperial Black panel and two integrated vases. Inscriptions and graphics (eg photo or motif) are laser etched into the black granite and are available for single or double inscription. Ceramic photos permitted on front of vase only and no bronze plaques are permitted in this section.
Monuments have been designed so that ashes can be interred within the base of the structure. There are restrictions to the number of ashes that can be interred per position, (a maximum of two) and permission must be given by the Grantee/Authority for Burial and/or Executor of the Estate for ashes to be placed within the memorial.

Bronze Plaques are set on a concrete beam construction. One 380 x 280mm Bronze Plaque is permissible per position. Provision has been made for two vases per position on either side of the bronze plaque. Ceramic photos can be attached to the bronze plaque. War Graves plaques are permitted in this section (please refer to information on War Graves).

Section Eight is located to the left of the main entrance on Brunskill Road. Upright engraved granite headstones with integrated vases are set on concrete beam construction. Ceramic photos can be attached to the granite headstone. One headstone is permitted per position. War Graves are not permitted in this section of the Cemetery.

Bronze Plaques are set on a concrete beam construction. There are many memorial options available in this section with a maximum space for memorials in each position of 559mm wide x 356mm high.
Bronze Plaques with a range of sizes available, more than one plaque can be placed in each position.
Ceramic Photos can be attached to Bronze Plaques only.
Maximum of two vases per position.
Garden bed beam construction with white pebbles.
Lawn Burial memorials consists of a 305 x 203mm (12 x 8") Bronze Plaque with a concrete or granite base:
Ceramic Photos can be attached to either bronze plaques or granite panels.
Maximum of two vases per position.

In 2009 Wagga Wagga City Council endorsed a plan to include a Natural Burial Section at the Wagga Wagga Lawn Cemetery. This section was developed in 2012 and includes plant species endemic to the local area. A larger Natural Burials area will be located in the Stage 2 development at the Wagga Wagga Lawn Cemetery.
The main principal of natural burial is that the body (or cremated remains) is prepared for burial or interment without chemical preservatives and a simple shroud or biodegradable coffin is used. The body or remains are returned to the earth to decompose naturally.
In an attempt to keep the burial area as natural as possible there is no physical identification or memorial used at the site. Therefore there are no headstones, vases or flowers placed at the burial site. Accurate maps and plotting data is recorded to ensure that future generations are able to locate the place of burial.
Burial Location Map