Notification – Temporary/Special Event Food Stall
Food businesses that sell food to the public at temporary events such as fairs, festival, markets and shows are considered retail food businesses and therefore need to meet a range of requirements and food safety control such as:
Food businesses wishing to trade in Wagga Wagga's Local Government Area are required to notify their businesses with Wagga Wagga City Council.
Upon notification you will receive an acknowledgement of notification with a Temporary Event reference number (TEF) which allows you to trade in the local government area over a period of 12 months.
Acknowledgement of notification will need to be produced at temporary events whilst trading in Wagga Wagga. All food businesses/food stall holders will obtain a TEF number as reference. All businesses (except mobile vending vehicles & commercial businesses) are required to renew Temporary Event business activities notifications once every 12 months.
For more information about the notification process, please read the information on the Temporary Event food stall notification process page.
*Please Note: This application does not provide approval to operate on a public footpath. Should you need to carry out activities on a public footpath, a separate application form (Display of Goods) must be lodged with Wagga Wagga City Council.
Temporary Food Stall Minimum Requirements
MINIMUM STANDARDS FOR FOOD STALLS AT TEMPORARY EVENTS
In New South Wales the sale of food is regulated by the Food Act 2003 and the Food Regulation 2010. These laws incorporate the provisions of the Food Standards Code. Food business operators are bound by the requirements of these standards to ensure that only safe and suitable food is sold for human consumption. The Food Safety Standards can be downloaded from http://www.foodstandards.gov.au
Failure to comply with the requirements or the selling of foods that do not comply with the requirements may render the food business liable to prosecution. Vendors of foods which cause injury or illness could be sued for damages. A temporary event is any occasion which is not permanent in nature. The primary aim of this website is to make food businesses aware of their legal requirements and to suggest ways to assure food safety at the event.
MINIMUM STANDARDS - The following minimum standards shall apply in respect of all food to be prepared, stored, transported and offered for consumption at promotions and special events:
a) All persons engaged in the preparation, handling, storage or transportation of food shall maintain themselves and their clothing in a clean and tidy condition at all times and shall not be suffering from any communicable disease or illness that can be transmitted by the food being handled or prepared.
b) Food handlers shall not smoke tobacco in any form where food is being prepared, stored or transported.
c) No person shall use unclean or printed paper in such manner to allow surfaces of that paper to come in contact with any food.
d) Every person who is engaged in the manufacture, preparation, storage, carriage or delivery of any food shall keep at all times such food and receptacles, implements, vehicles, utensils, benches, fittings and other appliances used in connection with foods for consumption, clean, free from dust, foul odours, flies or other insects.
e) No animals, birds or plants shall be permitted in any area where food is being prepared, stored or transported. f) No food shall be provided in returnable containers.
g) Hand washing facilities and a supply of liquid antibacterial soap together with an adequate supply of water shall be required where direct contact is made Page 5 of 6 with food during its preparation and serving.
h) Where food is stored prior to cooking, it must be stored below 5°c.
i) All food and other ingredients used in the preparation of food shall be obtained from approved sources.
j) The event organiser must keep a record of the source of food used in the event.
k) All reasonable measures need to be taken so as not to compromise the safety and suitability of food. A person designated as a "food handler" may be required who is limited to handling food.
l) A bin is to be provided for waste with a close fitting lid.
Storage Areas- All food shall be stored to comply with the following conditions:
a) All potentially hazardous food shall be stored under temperature control.
b) All storage areas shall be constructed and positioned to prevent the entry of vermin, flies, dust, insects or any other contamination.
Transportation
Transportation of all food shall be in specialized transport or in a normal vehicle which is thoroughly clean and the food is fully protected from contamination. Where temperature control is required during transportation, the food shall be kept in clean containers or units, capable of maintaining the required temperature of 5oC or less for cold food or 60oC for hot food.
Food Display
a) All food and equipment shall be displayed or kept above ground or floor level.
b) Benches, trestles etc shall be clean and kept in good repair, smooth and free from contaminating substances.
Food Packaging
a) All food which is not prepared in front of the customer must be packaged in material that is fit for its intended use.
b) All packaging shall be suitably labelled, showing: Description of food, date packaged, name of the responsible person, address, and product name.
c) All ingredients used in the product must be indicated on the labelled product. Mandatory and advisory warnings e.g. lupin, nuts, milk, gluten, royal jelly etc.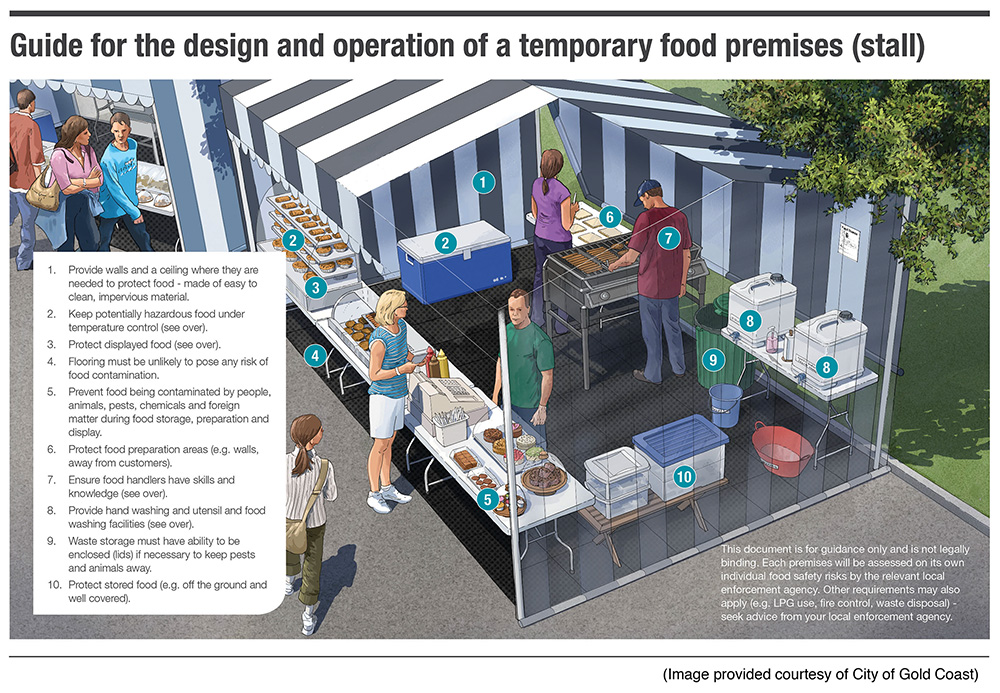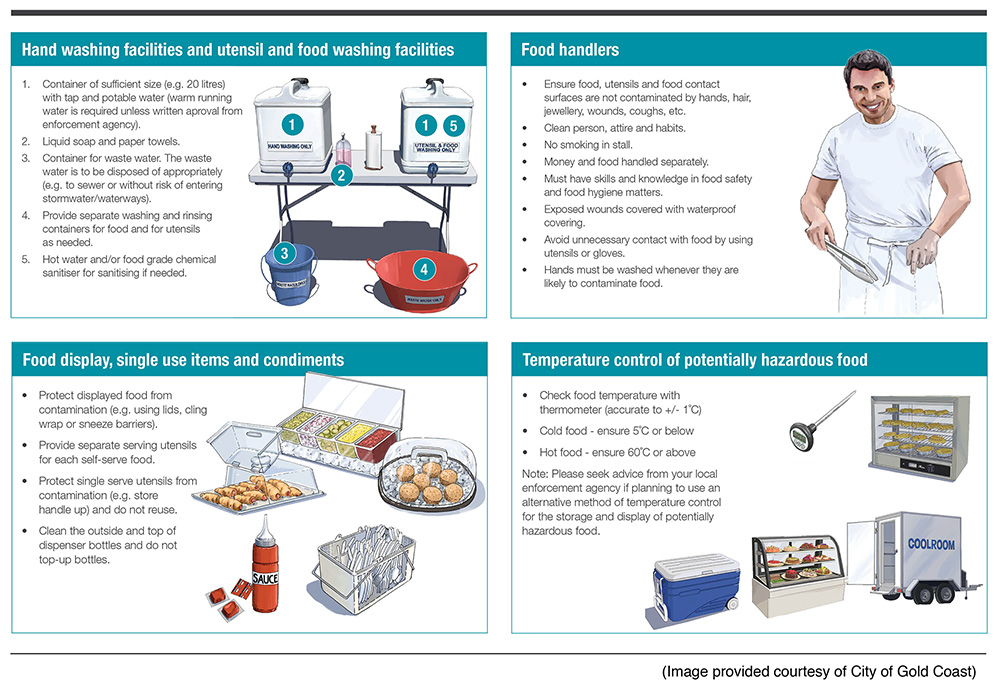 Approved Temporary Food Stall Operators
The following stalls have been approved by Council to operate within Wagga Wagga City Council's Local Government Area: